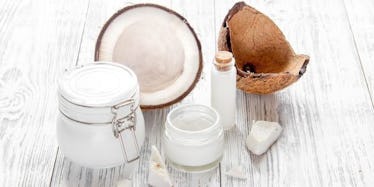 Why Coconut Oil Needs To Be Part Of Your Diet And Beauty Routine
Shutterstock
If you asked us, "What's one product you can't live without?" our answer would be coconut oil.
It's so versatile, and we use it every day in our cooking, for our skin and in our hair.
This buzzy oil really does it all, from giving you a gorgeous glow to fighting infections.
Plus, it tastes delicious in all kinds of different recipes. It's really our secret weapon!
Today, we're sharing more of coconut oil's incredible perks and how to take advantage of them. We promise this will be your new go-to ingredient.
Keeps your skin fab
The answer to dry or rough skin could be in your kitchen pantry!
Coconut oil has been found to soothe skin inflammation and help moisturize your face. Just pour a little in the palm of your hand and apply it to your face.
Let the oil sink in and then pat away any leftover oil with a towel.
Strengthens your hair
This staple can also help you grow long, luscious locks.
Coconut oil helps reduce protein loss in your tresses, which is essential for hair growth. You can also apply it overnight to treat dandruff and dry scalp.
Can help boost immunity
Coconut oil is composed of various acids that can fight off certain types of fungus and bacteria.
In particular, the natural anti-fungal caprylic acid can help aid in treating yeast overgrowth (candida) and other infections.
Slims your gorgeous midsection
According to past research, people who used 30 milliliters of coconut oil per day experienced a greater reduction in waistline circumference than those who used a different type of oil.
Hello, beautiful waistline!
Now that you've read all about the amazing benefits of coconut oil, it's time to get started using it.
How to use it in the kitchen
Coconut oil is very easy to incorporate into your diet.
It's perfect for sautéing veggies and cooking at a higher heat.
When you're cooking at a medium to high heat, try swapping olive oil for coconut oil. It has a higher smoke point, so it's actually better for this use.
Whip up your next dinner, such as a stir-fry, with 2 teaspoons of coconut oil. Or, try cooking your lean proteins with 2 teaspoons of coconut oil.
We also love stirring 1 teaspoon of coconut oil into our morning oatmeal and using it in baked treats, like this delicious chocolate berry muffin!
When baking with coconut oil, make sure to melt it before adding it to the rest of your ingredients so it's easier to whisk into the batter.
We also use it in healthy homemade popcorn.
How to use it in your beauty routine
We're obsessed with coconut oil for beauty purposes, too.
We keep a jar in our bathrooms at home and our desk drawers at the office to use as lotion.
We also use it to make an all-natural DIY hydrating face mask.
Coconut oil is also a great natural makeup remover. It even takes off the most stubborn mascara!
And we also apply a little to the ends of our hair. Add a tiny bit to your ends at night, and then wash your locks in the morning for a shiny, healthy mane.
Bonus: Your skin and hair will smell like a tropical paradise!
For even more science-backed nutrition advice, join our Tone It Up Nutrition Plan! You'll gain access to every edition of the plan filled with tons of tips and thousands of delicious recipes to help you reach your fitness goals.