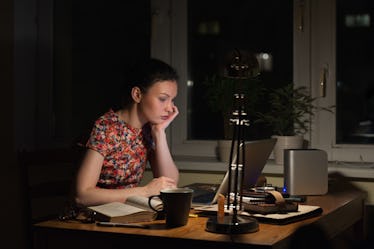 These 6 Subtle Red Flags Might Mean You're Not Drinking Enough Water
When you're busy trying to live your best professional and personal life, remembering to drink eight glasses of water a day can be the lowest priority on your daily totem pole. But hydration is one of the most important acts of self-care there is, and it's essential to feeling energized on any given day. If you're not sure whether you're currently drinking enough water, you might want to pay more attention to the red flags for dehydration that can often go unnoticed.
Hydration isn't about simply drinking a bottle of water a day. In fact, you actually need way more water than you probably think in order to be properly hydrated each day, as most experts suggest a minimum of half a gallon of water a day (around eight glasses daily), and some athletes drink twice that amount during peak training periods.
While it depends somewhat on how much you move around, and even how much you sweat each day, a good rule of thumb is to shoot for about eight glasses of water each day. That might feel daunting at first, but there are apps out there to help you, and plenty of beverages that can contribute to your hydration beyond just plain water.
But the first step toward healthy hydration is admitting that you're not hydrated enough. Here are six signs that you might be more dehydrated than you realize.