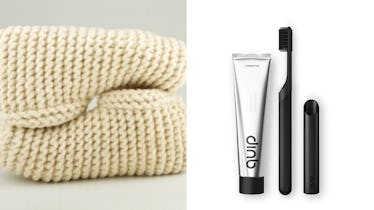 The Best Feminist Gift Ideas That Give Back To Women & People In Need This Holiday Season
Chilote/Quip
One big thing that can be frustrating about the holiday season — besides constantly having to go to cocktail parties, and the fact that "Santa Baby" is playing every time you enter a coffee shop — is the expectation to spend so much money. Seriously, it's overwhelming! But listen, friends: I challenge you to just pause for a moment before you go wild on Amazon this year, and look at where you put your dollars this season. For instance, why not make it an intention to shop for feminist gifts that give back to women? Perhaps look for companies that are run by women, that are donating some of their profits to women in need, or brands that support female artists, artisans, and entrepreneurs — there really are so many options, and lucky for you, I've laid out a few of the best ones to consider this holiday season.
It's easy to forget how powerful money can really be, especially during this time of year, when you're constantly swiping credit card after credit card, and low-key cowering in fear each time you check your bank statement (or is that just me?).
So if you're looking for gift ideas that are a little more meaningful, rather than presents that are purely glitzy and expensive, I've rounded up some of the best options to consider.