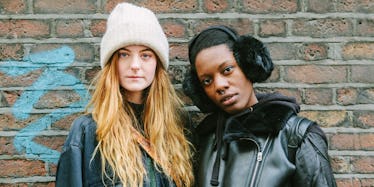 Awesome Holiday Gifts For Your Activist Girlfriend Who Won't Give Up In 2017
kkgas
If your girlfriend happens to be an activist, a feminist, a woman with a voice, a brain and an opinion, she may not be feeling in the holiday spirit this year.
I'm not going to list off all the terrible things that have happened in 2016 because it would take me the rest of the day.
Besides, we're talking about gift guides, here — not about how shitty 2016 has been and how heartbreaking it is at that Donald Trump is going to be the leader of our beloved nation.
So what kind of gift do you get a girl for the holidays who has post-election depression?
Look, babes, I love the holidays. I like glitter and little gifts like lavender-scented soaps, pretty little charm bracelets and shiny lip glosses, but this year, none of that shit appeals to me.
I want to feel empowered, I want my pain to be recognized and most of all, I want to know that BAE supports me and my wild activist ways.
I want to feel empowered, I want my pain to be recognized. I want to know bae supports my activist ways.
So, here is the ultimate gift guide for your activist girlfriend who is pissed AF about the election.
Oh, and to whom it may concern: I want all of these things, too.
1. Some feminist pins.
The only shiny, little light at the end of this dark tunnel is this: Donald Trump is going to create the most radical group of women to ever exist.
Never have we ever been so excited to wear our activism on our sleeves, babes! So if your girlfriend is ready to smash the patriarchy to the ground, get her this pin.
Feminist Heart Pin, $9, Etsy
I'm always into a simple "feminist" heart pin, too, which you can find on Etsy.
If your girlfriend is a radical feminist like me, I recommend the "Stop Telling Women What To Do With Their Bodies" pin below.
Stop Telling Women Pin, $2, Etsy
If you're a dude and you get any of these for your girlfriend, she will think you're the fiercest, most badass, sexy, hot, amazing dude to ever live.
2. A super cool bomber jacket.
Wild Feminist Bomber, $48, Wildfang
I'm obsessed with this "Wild Feminist" black bomber. It's perfect for your activist girlfriend because every activist loves a black bomber jacket, especially one with an empowering message on the back. You can get your lady this cool bomber right here.
(Bae, I really want this).
3. A power pussy halter.
Pink Halter, $38, Dolls Kill
This SHIRT is everything, and you can get it for your feminist bae right here.
Not only do activists feel a kinship with actual cats (they're elusive and wild, like us), but this shirt also sends the message, "GET THE YOUR LAWS OF MY PUSSY."
4. A mini backpack telling strangers to BACK OFF.
Not Yours Backpack, $38, Dolls Kill
Activist girls need backpacks because we need to store our shit and have access to both hands. (Those protest signs won't hold themselves, bae.)
So this backpack is super cute, but it also reminds men that consent is everything. So back off, baby.
Buy this for your bae here.
5. A great feminist book.
Full Frontal Feminism: A Young Woman's Guide to Why Feminism Matters, $13, Amazon
I'm reading this right now, and I love it. But any of the great feminist classics will do.
We need empowering reading material now more than ever, honey, so give the gift of feminist reading to your girrrlll.
6. A dismal Christmas sweater.
Happy Fucking Holidays Sweater, $15, Dolls Kill
YAS, queen! We're all miserable, but we will still be attending Christmas parties.
So this is a way for your girl to rock a Christmas sweater at the party while still letting the world know she hasn't forgotten about the dismal state we're in.
Plus, this is CUTE AF, so just get it for her, OK?!
7. Plane tickets to the Million Women's March in DC on January 21.
Chances are, your girlfriend is still trying to figure out how to get to the Million Women's March the day after Donald Trump gets sworn in.
If you really love her and really want to impress her, get her some plane tickets to DC for the event. It's way cooler than any stupid fucking diamond ring, I promise.