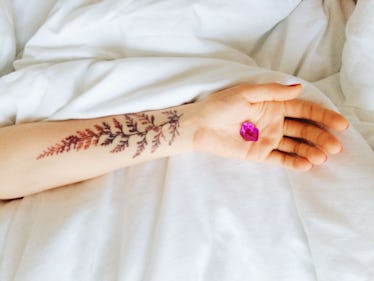 To Stay Grounded No Matter Where You Are, Carry These 6 Crystals Throughout Your Travels
As fun as it is to hit the road (or the skies) and travel, being on the move can definitely be stressful, especially as your body adjusts to a brand new environment. Some people get anxious on planes, jet lag is basically a universal struggle, and don't even get me started on the nausea that can ensue during a long road trip. And while everyone has their own ways of dealing with travel-related worries and mishaps, I've found that bringing along a couple of crystals for traveling always helps me combat any of these stressors like the girlboss that I am.
If you, too, want to enjoy some of the uniquely soothing properties of crystals during your summer travels, it's important to choose the right gemstones, because there are so many different types of crystals out there, and some are especially fit to accompany you on your adventures.
According to The Chalkboard Mag, keeping these crystals close to you while you travel will ensure you're surrounded by all the good vibes throughout your adventures, and keep you grounded by representing "a little piece of home" that you've taken with you on your journey.
So the next time you hit the road or hop on a plane, make sure you pack these six carry-on crystals to help you stay totally centered during your vacay.