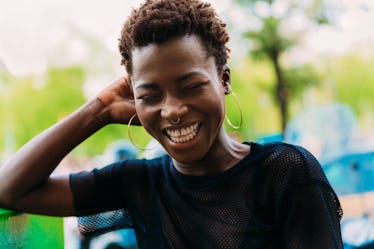 How To Take Care Of Your Mental Health On A Daily Basis By Doing These 7 Little Things
Let's be real: Sometimes, it can be hard just to be a human, let alone navigate all the many challenges that come with being a human. And learning how to properly take care of yourself is its own tall order of a task, especially if you feel constant tolls on your stress levels, or even contend with mental health issues like depression or anxiety. But there are little ways to protect your mental health from day to day that make it a little easier to feel like yourself. The first step, my friend, is simply recognizing that caring for yourself and your emotional well-being should always be regarded as a huge priority in your life.
And while the reality of this certainly isn't ideal, anxiety and depression are becoming more and more common — or, at least, more people appear to be recognizing these issues within themselves these days. A new poll released by the American Psychiatric Association (APA), in which people were asked to rate their anxiety in the areas of health, safety, finances, relationships, and politics, showed that the national anxiety score came out to a 51 on a scale of 100. According to the APA's report, this is a five-point jump from where we were in 2017 — so yeah, that's not great.
While the increase in anxiety was seen across people of all races, genders, and ethnicities, when it came to breaking the results down by age groups, millennials were found to be the most anxious of all. In other words, if you've been grappling with anxiety issues a lot lately, you're far from alone. And the good news is, there are so many little ways to take care of yourself each day, and I promise, it'll all get easier from here.