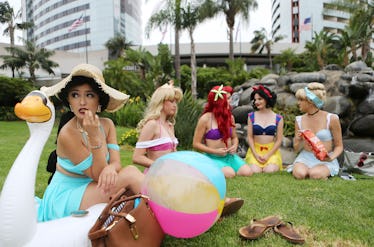 7 Costumes I Saw At The D23 Expo That Are Giving Me All The Halloween #Inspo
Mario Tama/Getty Images News/Getty Images
This past weekend, I attended the D23 Expo in Anaheim, California. If you aren't already in the know about the D23 Expo, it's basically the Comic-Con of Disney. This was only my second time going, so I kind of felt like a rookie. As a Disney lover, my favorite part of the entire weekend is knowing that I'm surrounded by fellow fans who are just as obsessed as I am. You can even see it in some of the Disney-inspired outfits people wear all weekend long. In fact, some of the best costumes from the D23 Expo 2019 will give you major Halloween inspo for this year.
Like any convention, there are cosplayers who go all-out, and at the D23 Expo, you can expect all sorts of cool Disney 'fits. I decided to go as young Ellie from the movie Up with overalls and an aviator hat I found. But my costume was nothing compared to some of the elaborate and creative outfits I saw walking around the event.
Thankfully, the D23 Expo came at just the right time to give you ideas for your Halloween costume. Maybe you don't have the time to sew together a ballgown, but you do have time to head to your local thrift store and put together the essentials to channel your favorite Disney prince or princess. If you're still having major costume block, hopefully this list will inspire you.