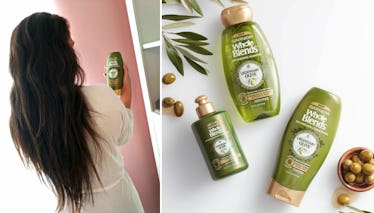 I Tried This $4 Cult-Favorite Conditioner & I Hate Myself For Not Trying It Sooner
Stephanie Montes/Garnier
I've seen and heard many reviews of the Garnier Whole Blends hair line through my beauty-editor friends, online, and on social media, and all have sung the praises of this drugstore steal. Though I've been on the hunt for the best conditioner for dry hair, I've had said product sitting on a shelf in my linen closet for months now (side note: this closet is packed with beauty products and not a single piece of linen). I kept meaning to try it but I always remembered the second I jumped in the shower, and by then it was too late to run to the hall closet. It wasn't until recently, when I ran out of my favorite expensive conditioner, that I dusted off its affordable counterpart and finally cracked it open. Now looking back, I hate myself for not trying it sooner.
After lathering up in its other half (Garnier Whole Blends Legendary Olive Replenishing Shampoo ($4, garnierusa.com)), the first thing I notice is the consistency: It looks and feels like my favorite hair mask, which is much thicker than my current conditioner. So far, it seems promising. I apply it from the middle of my hair, down to the ends. My rule of thumb is to keep thick hair treatments away from the scalp — these heavy products make hair look flat, and most of the damage is at the ends anyway. I massage it into my hair and to my surprise, it does feel like my favorite hair mask. If this conditioner is just as good as they say it is, I'll save a pretty penny not having to reinvest in this expensive mask. Fingers crossed.
I let it sit for a few minutes as I read the label. I learn that it's made with sustainably sourced virgin olive oil from Italy and is formulated without parabens or silicones. I get halfway through the label before I'm completely distracted by the scent — my bathroom smells amazing. Have you ever intentionally smelled olives before? Neither have I but I'm surprised by the clean, light floral scent. Even after I wash it off, I'm obsessed with how it smells.
Post-rinse (even before I get out of the shower), my hair is detangled and feels so soft. I didn't even have to run my fingers through it to get the knots out. This is when I realize, only the really good conditioners make your hair feel this soft even when its sopping wet. However, only when my hair is completely dry do I get to appreciate the true magic of this super affordable conditioner.
A little backstory on my hair: It's long and wavy, frizzy on occasion, but also gets flat on top and dry at the ends. I rarely get a blow-out or use hot tools to heat style — I usually just let it air dry —mostly because I can be lazy and partly because I want to limit damage. Also in the name of hair health, I try to limit washes to two or three per week, which means I sometimes have to get creative with styling. A few hours after my first conditioning session with Garnier Whole Blends Replenishing Conditioner ($4, garnierusa.com), my hair is completely dry and all I want to do is join along in singing its praises. It feels so soft and looks so shiny (this is no easy feat after putting off a haircut for months now). Even my dry ends feel completely repaired. Is that even possible? And the best part is there's no frizz in sight and I somehow still have volume on top. The full collection of olive-infused products by Garnier Whole blends includes a leave-in conditioner, and I don't even need it. Amazing AF.
And just like that, I throw away the empty bottle of that expensive conditioner and replace it with my new favorite. And the best part is I won't cringe every time I squeeze the last drops out of the bottle. At under $4 a pop, I'll have good hair days for life — and that is priceless.