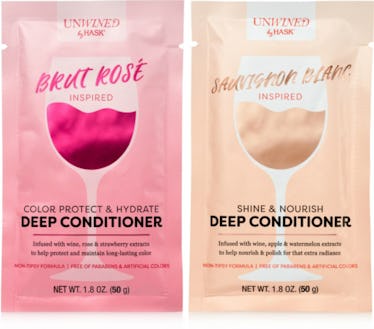 Wine-Infused Hair Masks Marry Your Wine & Bath Obsessions Into Sweet, Sweet Goodness
I don't actually know much about wine, but that's not to say I don't kick back with a glass of it in hand most nights of the week. At this point, I think I've come to associate relaxation with grapiness. So when I heard about Hask red wine hair products, I was probably way more excited than I should have been. A way to make my therapeutic bubble baths even boozier? I was sold. (There's no better cure for a long, crappy day then a tub full of Lush bath bomb goodness and a stemless — this is key when it comes to bath time sippin' — glass of Malbec, I swear.)
If you're scoffing at the idea of cheap, wine-scented hair products, let me just tell you that that's not what these are. Yes, they certainly have similarly juicy fragrance notes as some of your favorite fermented beverages, but they also boast similar antioxidant and vitamin rich qualities, as well. Hask is offering three reparative hair sprays (Rose, Red wine, and White wine) varieties that are meant to shine, smooth, nourish, and detangle; and an array of conditioning hair masks (Provence Rosé, Brut Rosé, Pinot Noir, Sauvignon Blanc, Pinot Grigio, and, Cabernet Sauvignon) that will rejuvenate and moisturize. Wine-o's, this is not a drill; the world is finally catching up and realizing just how magical grapes really are.
As you've probably heard before, red wine is kind of a superfood. This might be a bit of an exaggeration, but I'm choosing to believe it's true for personal reasons: I'm living in Argentina for the next two months (where wine is literally cheaper than water) and therefore has become a natural thing to drink in excess starting at 1 p.m. every day. (The fashion and beauty content at Elite Daily is about to get real fun, guys!)
Anyways, red wine contains resveratrol, which is a powerful antioxidant that's been proven to help protect and rejuvenate your skin and give it a refreshed glow. Considering hair is made of dead skin, it's easy to deduce what similarly beneficial effects red wine might have on it. Grapeseed oil, in turn, contains twice as much Vitamin E as olive oil, as well as Omega-6 fatty acids. Both are powerful tools when it comes to combating dry, dull skin. You'd better believe it can also give hair a shiny, healthy, and hydrated boost. As far as the white wine and rose products go, they also include resveratrol (though red wine has much higher levels of it IRL) and grapeseed oil, so they have similarly favorable properties.
While the above ingredients are standard in all of the products, each "flavor" of hair mask boasts its own additional beneficial ingredients. The Cab Sav mask, for example, includes cherry extract, which helps protect damaged hair, while the Sauvignon Blanc mask boasts watermelon extract to nourish and moisturize dry hair.
If you're thinking this is all a load of bullsh*t and that Hask has simply come up with a brilliant marketing strategy, think again. Kelsey Castanon, beauty news editor at Refinery29 said the Cabernet conditioner "made my hair softer than any night of drinking ever has, even after one five-minute treatment," and that the leave-in spray "detangled like a dream." Considering she also reported that the products smell incredible ("like those cherry Flintstone vitamins I used to hoard when I was a kid"), they are totally worth a try in my opinion.
So my only remaining question is whether or not Ulta Beauty ships to Argentina? If not, I'm going to have faith that the wine I'm consuming will somehow make its way to my hair and leave me with the healthy and happy strands.