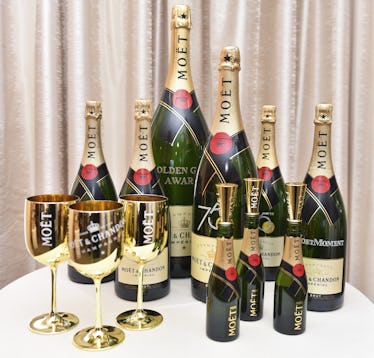 This Woman Spilled Champagne On Her Hair In Vegas & Ended Up With Shiny AF Strands
Rodin Eckenroth/Getty Images Entertainment/Getty Images
For my 21st birthday, I had a small get-together of five people at my friend's apartment and quietly drank from a bottle of Jameson and ate vegan cake. But for one woman, spilling champagne on her hair at her 21st birthday party changed her entire life. Is champagne good for your hair? The answer will make you want to take a Veuve shower this New Year's Eve.
On her 21st birthday, Rachel Katzman was living the good life in Vegas. She was partying it up with some champagne, as one is apt to do when they reach legal drinking age. The bottles were popping and champagne was spilling everywhere, even onto her hair (seems like a scene straight out of The Great Gatsby, no?). That's when Katzman discovered that champagne made her hair silky, soft, and texturized. She knew then that she was on to something. Why weren't we washing our hair with champagne?
It wasn't the first time the idea had been tossed around. Nearly a century ago, magazine bigwig Diana Vreeland wrote an infamous column for Harper's Bazaar. Her Why Don't You section featured "extravagant ideas for the modern women." In one particularly memorable column, Vreeland wrote "(why don't you) rinse your blond child's hair in dead champagne to keep it gold, as they do in France?"
Vreeland was of course referring to the flat champagne left over from the parties at the lavish apartments with famous faces that she so often frequented. Even at that time, champagne was known to enhance highlights and increase shine. So why hadn't any hair care brands jumped on this decadently luxe trend in the past 80 years? We common folk might not be able to rinse our hair daily with $100 bottles of flat champagne like Vreeland, but we can certainly splurge on a shampoo featuring this key ingredient.
So Rachel Katzman, being the enterprising 21-year-old she was, found a missing niche in the market and lunged at it. After three years of trial and error with different labs and ingredient combinations, Katzman developed her signature Cuvée Beauty Complex, which consists of champagne extracts (of course), white truffle extracts, platinum extracts, hair ceramides, resveratrol, and pea proteins. The champagne extracts act as antioxidants to protect against free radical damage and give the hair its silky texture and shine. The other ingredients help to retain moisture, make the hair strands, stronger, and more. Each and every product in Katzman's Cuvée Beauty line contains the specially formulated Cuvée Complex to give you that shiny rich hair with just one rinse.
The name Cuvée is even an ode to the product's champagne roots. In the world of bubbly, cuvée refers to the "first-pressed and most desirable juice." So basically, Katzman is promising that her product is truly the Dom Perignon of haircare. How sweet.
Where does one start when switching to a champagne-infused haircare routine? Well, there are shampoos ($35; cuveebeauty.com) and conditioners ($38; cuveebeauty.com) of course. Thorough clinical testing, Cuvée Beauty shampoo and conditioner system was proven to make hair twice as strong with 50 percent less breakage. Who knew champagne packed that much punch? Not only can it get you really tipsy really fast, it can also make your hair really strong.
Cuvée Beauty also offers a Champagne Spray ($45; cuveebeauty.com) which texturizes hair to off-duty-model effortless perfection. Huda Kattan, the well-known founder of Huda Beauty, has been singing the praises of this stuff. Though Kattan didn't care for the scent, there are a slew of reviews from consumers who've purchase the product for the delicious scent alone.
So if you're ready to embrace all that champagne has to offer this NYE, then hop online and order some Cuvée Beauty champagne hair care stat. Just soak in the tub with a glass of champagne in one hand and champagne shampoo in the other. Embrace the bubbly in every way possible, that's my motto for 2019.