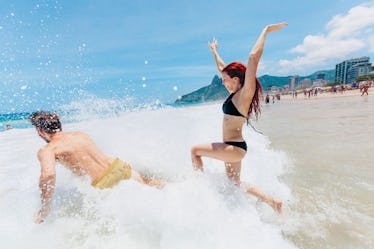 The Best Activity To Enjoy On The Beach, According To Your Zodiac Sign
Summer is just over a month away, and all I'm thinking about is going to the beach. I mean, if you don't go to the beach, are you even really having a summer? There's a reason millions of songs have been written about lazy afternoons on the beach. Between the sun bronzing your skin, the water finally being warm enough to go swimming, and the feeling of the sand beneath your toes, a day at the beach encapsulates everything that this season is all about. There's something for everyone to enjoy, and if you don't know where to start, the best activity to enjoy on the beach, according to your zodiac sign, will help you get the most out of your experience.
We all have our own unique ways of enjoying ourselves there. Whether you prefer hanging back on the sand and lounging around or getting your hair wet the minute you see the ocean, there's no doubt that going to the beach is important to everyone. And dude, make sure you actually make the effort to go! Don your favorite swimsuit, pick out a tropical beach towel, and remember what it feels like to be a mermaid. There's nothing worse than looking back on your summer and realizing you never went to the beach.
Aries: Playing Games Like Beach Volleyball
You love staying active, getting your adrenaline going, and having a reason to compete. A game like beach volleyball, limbo, or beach bowling gets you all hyped up. When you inevitably win (because you always do), your day at the beach feels totally worth it.
Taurus: Having A Yummy Picnic
In your opinion, relaxing and filling your belly with good food is what going to the beach is all about. An elegant picnic over a nice beach blanket with a view of the waves crashing on the shore is your idea of a perfect summer day.
Gemini: Having A Bonfire With Friends
A bonfire at the beach surrounded by your favorite group of friends is your ideal summer event. You love being able to engage in conversations with your loved ones while roasting marshmallows over a crackling fire.
Cancer: Watching The Sunset With A Loved One
To you, the beach is an emotional bonding experience. You love being able to crack open a cold one with someone you care deeply about and reminisce while the sun sets beautifully over the ocean.
Virgo: Sunbathing And Reading A Book
You love filling your head with new information. What better a place to do that than at the beach? Hearing the sounds of the waves crashing, smelling the salty sea air, and getting a good tan while you read a book sounds absolutely divine.
Leo: Surfing Or Boogie Boarding
You're always living life to the fullest and making a splash. You're the one who dares to get on a board and ride some waves while your friends admire your boldness from the shore.
Libra: Taking Photos For Social Media
The beach is the most aesthetically pleasing environment in existence and there's no way you're letting a photo op like this go to waste. You're the one who curates the perfect sunset backdrop for your money-making bikini shot.
Scorpio: Exploring Tide Pools
The beach is just full of mystery and beauty. You love exploring the beach even deeper and admiring the tiny worlds that exist just beneath the surface. Watching sea creatures sway in the soft waves crashing over tide pools is your idea of a flawless summer day.
Sagittarius: Befriending Other Beach Goers
You're so curious and fearlessly extroverted that you love meeting new people at the beach. Flirting with some hotties and inviting another clique to join yours sounds like a fantastic time. I mean, why not expand your group of friends?
Capricorn: Building A Sandcastle
You love having something to concentrate on, something beautiful that you're working towards. This is why building an intricate and amazing sandcastle on the beach brings a proud smile to your face.
Aquarius: Diving Right Into The Water
You don't want to just visit the beach; you want to become one with it. The second your toes graze the shoreline, you're running straight for the waves and dipping your head underwater. It's once you can feel the water all around you that you truly feel like you're at the beach.
Pisces: Collecting Seashells
You're so exploratory and imaginative that casually collecting seashells and admiring their beauty sounds like a lovely summer day to you. The sight of their iridescent linings and swirling shapes makes your imagination run wild.