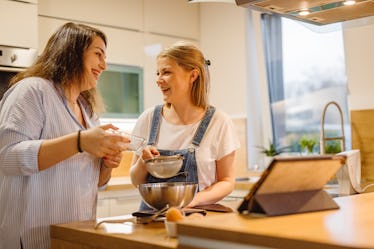 There's Now A Dessert Version Of The Viral Baked Feta Pasta Recipe &, OMG, Yum
Ziga Plahutar/E+/Getty Images
You've definitely heard of the viral baked feta pasta that's been all over TikTok. The simple yet delicious dish centered on baking a block of feta cheese in a pan with tomatoes all around. Now, there's a dessert version making its way onto people's "For You" page. The baked feta pasta dessert recipe on TikTok is definitely something you need to try if you've got a major sweet tooth.
By replacing your feta with a block of cream cheese and your tomatoes with some strawberries, you end up with a delicious dish that looks very similar to the savory edition. And that's not the only way you can make a dessert version of the baked feta pasta either. TikTokers are getting creative with tons of other sweet ingredients like chocolate, mini pancakes, and marshmallows, all of which bake in similar ways.
So, if you already know how to make the OG baked feta pasta, you're one step closer to making something sweet and delicious. You just need to decide which dish you want to make, so check out these seven sweet plays on the baked feta pasta recipe for inspiration. Then, make yourself an entire TikTok meal of pasta first and dessert second.