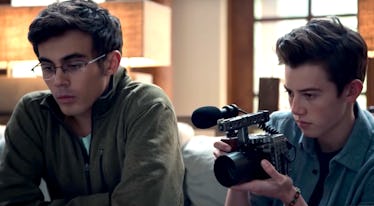 The 'American Vandal' Season 2 Trailer Is Here With A Whole New Ridiculous Mystery
Netflix
Last year, high school documentarians Peter Maldonado and Sam Ecklund investigated an outbreak of phallic graffiti, and this year, the two are taking on an entirely new case... although it is just as ridiculous-sounding. Netflix just released the American Vandal Season 2 trailer, which details a brand new high school prank-turned-dark conspiracy that will get the full true crime treatment by the spoof series. This time, Peter and Sam are going to have to get messier than ever before.
The first trailer for American Vandal Season 2 ends with the question that will be at the center of the new season: "Who is the turd burglar?" While the show's first season set out to answer "Who drew the d—s," Season 2 will be all about a fateful day in a nearby private high school, in which the entire student body found themselves unable to control their bowels after lunch. What ensued was a literal sh—storm, which was traced back to a contaminated container of lemonade, but the real mystery arrived later, when a mysterious Instagram account called "The Turd Burglar" began embarrassing students by posting videos of the fecal fiasco.
Now it is up to Peter and Sam to try to find who is hiding behind the poop emoji avatar, and unmask the turd burglar's true identity and motive. Check out the full trailer for American Vandal Season 2 below:
Along with revealing the new Season 2 mystery, the trailer might also be shocking to fans because it does not feature any of the characters from Season 1 aside from Peter Maldonado and Sam Ecklund. After Season 1 had aired, showrunners Dan Perrault and Tony Yacenda had confirmed that a second season of the show would transplant Peter and Sam into a private, Catholic school rather than the public school of the first season, and that would also result in none of the Season 1 characters reappearing.
In place of old favorites, Season 2 of American Vandal will introduce a bunch of new suspicious high school students for Peter and Sam to investigate. Several months ago, three new characters were revealed via casting announcements: Ethan (Travis Tope) is a student who wears a fedora and carries a pocket watch, DeMarcus (Melvin Gregg) is the school's star basketball player, and Officer Crowder (Adam Ray) is a police officer who has kept the school remarkably free from incident for 15 years. The trailer also reveals other persons of interest in the new case, including a "hot janitor" who winds up on Peter and Sam's suspect list.
The second season will attempt to replicate the success of American Vandal's debut season, which became a surprise critical darling, leading to a Peabody Award, two Critics' Choice Award nominations, and a nomination for outstanding writing at the upcoming Emmys.
The new trailer also finally confirms the American Vandal Season 2 premiere date: Friday, Sept. 14. The new season will begin streaming almost exactly one year after Season 1 dropped. It also means that we have less than a month to wait before we jump into American Vandal's new mystery.