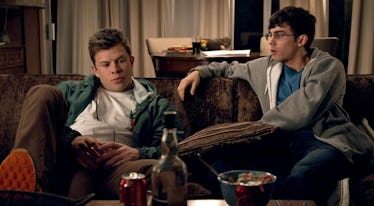 'American Vandal' Cast Its New Stars For Season 2 & We're Ready For More Mystery
Netflix
The mystery of who drew the d*cks lives on, and now American Vandal is about to give us a second season with an entirely new ridiculous mystery to initially giggle at and then become legitimately invested in to a degree that we did not expect. In place of Season 1 favorites Dylan Maxwell, Christa Carlyle, Alex Trimboli, and the rest of the dopey teens we came to love, American Vandal has announced its new cast for Season 2, and the true crime spoof's new stars will get you even more excited for the upcoming season.
If you are worried about having to say goodbye to all of your favorite characters from Season 1 of American Vandal, don't get too upset. The Netflix mockumentary series will continue to star its central student filmmaker/investigator Peter Maldonado (Tyler Alvarez) and his trusty sidekick Sam Ecklund (Griffin Gluck). After Season 1 ended in the fall of 2017, Alvarez told me that a second season would likely center on Peter and Sam investigating a totally new mystery, shifting focus from the rest of the characters we met in Season 1 to a new batch of high schoolers. Now, the American Vandal team has officially cast its first two lead roles for the new season, and gave a bit of detail about what we can expect from these new characters.
Travis Tope as Ethan
Travis Tope will star in Season 2 of American Vandal as a high school junior named Ethan. All we know about Ethan right now is that he wears a fedora and carries a pocket watch, so it sounds like he's going to be a pretty obnoxiously pretentious character. If you are looking for a Season 1 analogue, I would guess Ethan may serve a similar role as Alex Trimboli or Christa Carlyle: a sly, not-exactly-honest accuser who complicates Peter and Sam's investigation. Then again, we know Season 2 is going to be completely different from Season 1, so who knows how Ethan will actually fit into the story.
You may recognize Travis Tope from his various film and TV roles. Tope starred in the 2014 dramedy Men, Women & Children, the 2016 sequel Independence Day: Resurgence, and the 2016 sci-fi horror flick Viral. He has also had memorable recurring roles on TV shows like Boardwalk Empire and Last Man Standing.
Melvin Gregg as DeMarcus
Alongside Ethan, the other new lead role in American Vandal Season 2 will be DeMarcus, played by Melvin Gregg. The only thing we know about DeMarcus is that he is also a high school junior, and also the top basketball player at the school. As I've already said, Season 2 is supposed to be a different storyline from Season 1, but it does kind of feel like DeMarcus may be the Dylan Maxwell of the new season. As the school's best basketball player, DeMarcus probably has a lot to lose if he is accused of some crime, just as Dylan had to deal with the accusations against him hindering his college prospects.
Melvin Gregg is best known for his presence on the now-dead app Vine. Interestingly enough, Season 1 star Jimmy Tatro, who played Dylan Maxwell, was also best known as a Vine star before starring in American Vandal. Gregg has also acted in a number of shows before now: he stars in the Hulu sci-fi series Freakish, and is recurring as one of the suitors on the currently airing season of UnREAL.
Season 2 of American Vandal is set to air sometime later this year. Since Season 1 premiered last September, keep your eyes peeled for the new season to drop this fall.