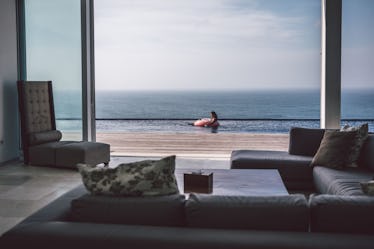 The Airbnb You Should Stay In Next, According To Your Zodiac Sign
As a young millennial with a heart full of wanderlust and a limited budget, Airbnb is nothing short of a godsend. Even if I was able to afford luxurious five-star hotels, I doubt I would ever forgo Airbnb altogether. Each listing is brimming with homespun energy, radiating a unique experience that would be so hard to find in any standard resort. With Airbnb, you merge with the city and leave it behind feeling like you've become a local. I felt like a regular Parisienne staying at the studio apartment I found on Airbnb in Île-de-France. When I stayed in New York City, my tiny unit in an old building on the Upper East Side had my soul sinking deep into the neighborhood vibes. With Airbnb, there truly is a place for everyone, and the Airbnb you should stay in, according to your zodiac sign, will satisfy all your travel fantasies in one stay.
Because your sun and rising signs say so much about your adventurous side, taking astrology into consideration when mapping out the vacation of your dreams can make the difference between a trip you'll forget and a trip you'll remember forever. I don't know about you, but I want memories of my travel experience tattooed on the inside of my heart. I want to be able to daydream about my vacation whenever day-to-day life gets too rough, allowing the remembrance to transport me back in time.
Well, I've paired a completely jaw-dropping Airbnb listing for each sign in the zodiac that should tantalize and tease your inner-explorer, egging you on to just say "Screw it," and hit the "book" button right this very second. I mean, what are you waiting for?
Aries: Sea Cliff House in Laie Point, Oahu, Hawaii, USA
An Aries dreams big and gets right to the point. At this epic and modern ocean-front home in Oahu, Hawaii, an Aries can lavish in luxurious views before diving right into the water. Make sure you satisfy your need for an adrenaline by acquiring a surfboard!
Taurus: Domus Civita in Civita, Italy
A Taurus is innately concerned with luxury, beauty, and at the end of it all, fantasy. At this unbelievable 14th century villa in Civita, Italy, their combined desire for nature and extravagance will be realized through swimming pools in underground caves and lush gardens.
Gemini: The Enclave in Chiba, Japan
Multifaceted Gemini wants a little bit of everything in their vacation. This wooden home in Chiba, Japan is situated in an absolutely mystical forest, offering a stunningly lit Japanese interior and the opportunity to eat home-cooked meals prepared by the chef-owner themselves.
More than anything, a Cancer wants to feel cozy and loved on vacation. This treehouse in a forest situated in Atlanta, Georgia will make a Cancer feel protected by faerie guardians and soothed by the whispers of nature. With a few close friends, a Cancer will want to stay here forever.
A Leo always wants to feel like royalty, especially when they're on vacation. At this medieval keep in Flocellière, France, a Leo will be transported back in time, feeling like the queen of the world. If a Leo has always had fantasies of wearing a crown on their head, this Airbnb is the right place.
A Virgo's dream environment would be bursting with cleanliness, organization, and purifying views. There's no better place for them than this gorgeous and modern studio in Akureyri, Iceland. Surrounded by beauty and replenished by a minimalist style, a Virgo will rest well here.
You know how Libras are. If they're going on a vacation, it's going to be extra AF and perfect for a style maven. At this penthouse situated right in front of the damn Eiffel Tower, a Libra will feel just right. Honestly, what's more "Libra" than a glass of champagne and a view of the River Seine?
Mysterious, magical, and fascinated by all things taboo, a Scorpio will be wrapped up in a dream at the Parks-Bowman mansion in NoLa. In this room, a Scorpio will be surrounded by hundreds of books, mystical artwork, and eased on a balcony with a view of so much Southern fauna.
The biggest and truest adventure of all the zodiac deserves nothing less than this safari lodge in Limpopo, South Africa. In the middle of a wildlife reserve, a Sagittarius can lounge in the jacuzzi and gaze at grazing elephants, buffalo, hippos, and more.
Above all, a Capricorn is classy, regal, and somewhat traditional. All their dreams of being an English noble from a Jane Austen novel will be satisfied staying at this Elizabethan gatehouse in Bridgnorth, England. With stunning renaissance interior design, what more could a Cap want?
If an Aquarius is going on vacation, it's going to be a completely unique experience that no one else would even think of. At the world famous seashell house in Isla Mujeres, an Aquarius will feel like a connoisseur of eccentric travel experiences. They'll also feel like a downright mermaid.
A Pisces just wants to live in their dreams. At the forest-and-heaven themed apartment in Melbourne, Australia, their reality will be even better. With an interior decorated like a mystical forest and a bedroom that resembles clouds in the sky, a Pisces will float through a fantasy.