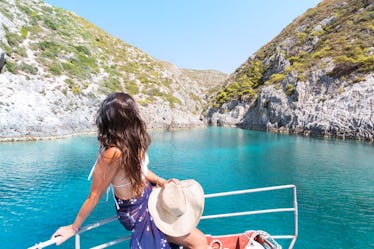 Where You Should Vacation This Summer, According To Your Zodiac Sign
Summer is so much more than just sweating in 90 degree weather and enjoying a long, lazy break from school (if you're lucky enough to still be in school). It's a time for making exciting new plans, falling madly and hopelessly in love, opening your mind to new perspectives, and cherishing the spice of life. It's when a fire in your soul is lit. It's when the longing in your heart takes you on the journey of a lifetime. There's a reason thoughts of summer are always brimming with nostalgia. Knowing where you should travel in summer 2018, according to your zodiac sign, will allow you to make sure this season is forever ingrained in your memory.
If you think summer has to be an average few months, you're wrong. The world is sparkling with mysterious destinations, and they're just waiting for you to discover them. If you don't know where to go, the nature of your zodiac sign says a lot about the kind of vacation that would be perfect for you. Some might prefer a more laid-back, luxurious respite at a resort on a tropical beach. Others might want to go somewhere adventurous and exotic, a place that resembles nothing like home. Wherever your zodiac sign inspires you to travel is the place you need to be. If any of the below destinations are seemingly out of reach for the time being, check out Elite Daily's travel diaries, Wander or Bust, and see travel diaries from 44 different women around the globe. So, what are you waiting for? Life's too short to never leave home.
Aries: Cancun, Mexico
For an Aries who loves to get their adrenaline pumping on a wild and uninhibited adventure, Cancun, Mexico, is the perfect place. Between snorkeling in undersea wonderlands, zip-lining through tropical forests, and then dozing off on a white-sand beach with a cocktail in hand, the fun is endless.
Taurus: Florence, Italy
The decadence, culture, artistry, and cuisine that a Taurus holds so dearly can all be found in Florence, Italy. They can wile away the days shopping at boutiques, admiring ancient artwork, strolling along gorgeous river scenes, and then satiate their appetites with some spaghetti and a glass of wine.
Gemini: Sydney, Australia
Australia contains everything a variety-loving Gemini could need. Why not start at its glittering capital? The social scene is flowing with energy and positivity, the beaches are full of beautiful people, and when they have a belly full of the city, Gemini can journey through the country's epic natural world.
Cancer: Cork, Ireland
Affectionate, homebody Cancer would love nothing more than cozying up in a cottage along the quaint and peaceful coastline of Cork, Ireland. They can explore the ruins of medieval castles, climb grassy hilltops, and then end the day with a drink at a pub that's probably been there for hundreds of years.
Leo: Santorini, Greece
Lavish and audacious Leo would want nothing more than a vacation that is the envy of all. Just imagine the Instagram photos they could take while lounging in a yacht on the royal blue Mediterranean Sea in Santorini, Greece. Anyone who visits this gorgeous city immediately becomes royalty.
Virgo: Copenhagen, Denmark
The clean and fresh beauty of the colorful city that is Copenhagen, Denmark, would be the perfect vacation for a Virgo. This city was constructed in an incredibly efficient and organized way, making it the destination of a dream for this logical and detail-oriented zodiac sign.
Libra: Paris, France
Romantic and aesthetically gifted Libra will fall in love over and over again in Paris, France. Many would argue that this is simply the most beautiful city in the world. Inspiring poets and filmmakers everywhere, a Libra might just find the love of their life here. Or at least, a shopping spree and an amazing glass of Bordeaux.
Scorpio: Honolulu, Hawaii
While a Scorpio loves delving into a deep, dark mystery, they also like knowing what to expect when they're on vacation. That's why settling into a luxurious resort in Honolulu, Hawaii, would be ideal for this zodiac sign. When they're ready to head out, they can explore a waterfall or go on a spiritual hike.
Sagittarius: Machu Picchu, Peru
Adventure-loving and free-spirited Sagittarius doesn't want to just go on vacation; they want to go on a journey. This is why climbing the ancient ruins of Machu Picchu, Peru, would be a balm to their soul. They want to be shaken out of their comfort zones and enriched by culture. Here, they'll find both.
Capricorn: London, England
Ambitious and pragmatic Capricorn would be absolutely inspired by the sights and history found in London, England. There, they can learn all about the city's ancient history, enjoy extravagant sessions of traditional high tea, and feel like one classy traveler taking photos in front of Buckingham Palace.
Aquarius: Jaipur, India
Eccentric and individualistic Aquarius is always trying to do things their own way. This is why visiting a city as rich in culture and uniqueness as Jaipur, India, would definitely be up their alley. The architecture is so gorgeous, and it's literally called the "Pink City." Aquarius will feel so far away from their reality there, and that's exactly what they want.
Pisces: Kyoto, Japan
Dreamy and sensitive Pisces would be right at home in Kyoto, Japan. The nature here is unlike any other place in the world. Between cherry blossom forests and bamboo forests, their soul will feel completely rejuvenated. This city was basically made for someone spiritually inclined.