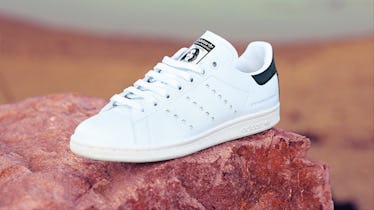 This New Stan Smith Is Even Cooler Than The Original & It's 100 Percent Vegan
Stella McCartney x Adidas
This has been a huge week for sustainability within the fashion world. Burberry announced it would stop burning its unsold items (I mean, good). The British brand also announced it would stop using real fur in its collections. And now, this Adidas x Stella McCartney Stan Smith is vegan! The storied style was released in completely vegan form thanks to a collaboration between Adidas and green fashion hero Stella McCartney. Let's hope this momentum towards a more earth-centric and responsible fashion industry continues.
McCartney has a long history with Adidas (she's been working with them for 13 years), so a Stan Smith collaboration isn't overly shocking. Everyone from Yohji Yamamoto to Raf Simons and Jeremy Scott has released their own take on the shoe via Adidas, so it was only a matter of time. "The Stan Smith sneaker is just an incredible design that has stood the test of time. I'm a fan of the original as much as almost everybody is," McCartney told i-D. "It just connotes a heritage in tennis and performance that was really important at the time. Now it seems like part of the furniture in footwear, a classic, but at the time it was pretty revolutionary and obviously the cutting-edge technology in tennis footwear for the athletes."
What is new and surprising about this collaboration, however, is that McCartney's Stan Smith, which is called the Stella Stan Smith (love some good alliteration!), is the first one to be completely vegan. "Having worked with Adidas for over 13 years, I thought it would be such an incredible opportunity for me to be part of such an iconic collaboration with such an iconic athlete; and create the first animal free Stan Smith made with vegetarian leather and non-animal based glues," McCartney explained to i-D.
Since launching her eponymous brand in 2001 (she was working at Chloe before doing so), McCartney has made sure to represent and uphold her personal values of ethicality and environmentalism via her brand. The daughter of two animal rights activists (and one herself!), McCartney, who is a lifelong vegetarian, has never used leather or fur in her designs. That's why her Stan Smith couldn't be anything but vegan, but because it's coming from McCartney, it also couldn't be anything but impossibly cool.
That is to say that her version of the shoe didn't sacrifice any of the Stan Smith's iconic cool factor. It boats a classic all-white design along with three lines of cute perforated stars on the sides and a maroon and royal blue striped heel. As a cool added detail, McCartney's portrait is stamped on the tongue of the left shoe, while Stan Smith himself holds court on the tongue of the right shoe. It's the ideal staple white sneaker to wear with literally every outfit ever except your conscious doesn't have to weigh heavy for owning it.
The Stella Stan Smith is currently available for preorder and will drop in-stores on September 10th. I have a feeling this is a drop that might sell out relatively quickly, so if you're into that green-fashion life, hop on it.