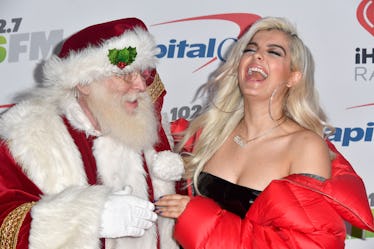 'A Christmas Story Live!' Starts With A New Christmas Pop Classic
Frazer Harrison/Getty Images Entertainment/Getty Images
Wow, wow, wow. Merry Christmas to all of us! On Sunday, Dec. 17, A Christmas Story Live! aired on FOX and rocked our jolly little lives. The classic Christmas tale was woven into a glorious musical/live television production and starred some of our favorite faces in showbiz. But first, it opened with a total surprise. Bebe Rexha's A Christmas Story Live! performance opened up the show and took us all off guard in a great way. I smell a new Christmas classic on our hands.
You might recognize Rexha from her epic collaboration with Louis Tomlinson on the sexy song "Back To You." But now, you'll know her from A Christmas Story Live! The show kicked off promptly at 7 p.m., and instead of opening on a close-up of little Ralphie's face, it opened up on a close-up of Rexha's. She dressed up in a festive, red and green plaid dress and Santa's hat, and gave us some serious cheer-face.
The song is somehow a mix of both classic Christmas AND pop auto-tune, which I am weirdly all about. Her backup dancers brought as much enthusiasm as Santa's literal elves, and totally rocked some epic bunny costumes. If I can be honest, though, I only had eyes for Bebe.
In a charming interview about the opportunity to open the show, Rexha said,
I wanted to do a Christmas song this year anyway, and how funny is it that I get a call saying that Pasek and Paul wrote this incredible song to open up A Christmas Story on FOX. And I was like, this is perfect.
These guys are academy award winners, Tony winners, and I was a little nervous working with them, but they were so much fun and I had such a great time in the studio with them. And, they kind of put the spirit of Christmas in me.
She continued to describe the song, explaining,
It's called "Count On Christmas," and it's a straight-up Christmas song. And it's the first original Christmas song I've ever recorded and performed, so this is, like, really special for me.
She also broke down what it was like to be on set:
We were on set the other day, and there's gonna be like 75 dancers behind me and I'm singing it live in front of the whole country, so it's going to be a little bit different than recording it in the studio.
And don't think the audience size intimidated her. Being involved in such a Christmas classic made her feel great.
She added,
I can't wait for the world to hear it because actually, I've been singing it non-stop. I was such a big fan of a Christmas Story. Especially growing up, we watched it during Christmas time. And, when FOX asked me to be a part of this live musical, it was kind of a dream come true.
YOU'RE TELLING ME, REXHA!
Benj Pasek and Justin Paul of La La Land and Dear Evan Hansen fame came together to compose the music behind A Christmas Story: The Musical, which was nominated for three Tony awards after debuting on Broadway in 2012. Now, they're back for the live production.
Rexha joins additional fan favorites like comedic heroes Maya Rudolph, Jane Krakowski, Ken Jeong, Matthew Broderick, Ana Gasteyer, and David Alan Grier, just to name a few.
Sure, but none of them are the voice behind my new fav song, "Count on Christmas!"
Love to love you, Bebe.
Check out the entire Gen Why series and other videos on Facebook and the Bustle app across Apple TV, Roku, and Amazon Fire TV.