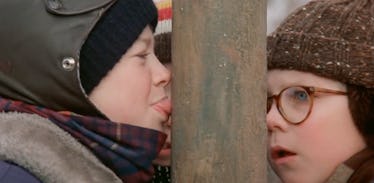 'A Christmas Story Live!' Cast Is Clearly Going To Give The Original A Run For Its Money
YouTube
Few things in life are as reminiscent of the holidays as the phrase, "You'll shoot your eye out!" You guys know exactly what I'm talking about. It's sometime in the 1940s and Ralphie Parker just wants a Red Ryder, Carbine Action, 200-shot Range Model air rifle. The movie is A Christmas Story, and it's one of the very best. This year, FOX is taking on a live version of the show, and the A Christmas Story Live! cast is going to seriously give the original a run for its money.
Now, I know you're thinking about that time Carrie Underwood played Maria Von Trapp in NBC's live version of Sound Of Music, and it was less "Do-a deer" and more "D'oh! Oh DEAR!" (Thank you so much.) Just peeking at A Christmas Story Live!'s cast, it looks like we can have much higher hopes for this adaptation.
Now, I know what you're thinking again. You're thinking, "But this isn't even a musical. How are they going to do it live?" Good news, viewers! It's not our problem! All I know is it's their job to entertain us. Plus, the live show is based on both the movie and the musical that came out 2012, which was low-key nominated for three Tony awards. So actually, yeah, there might be singing.
Why am I so sure this is going to be a huge delight? Oh, because the cast includes Maya Rudolph, and literally everything is better with Maya Rudolph. Take a look at this cast.
Ralphie Parker - Andy Walken
Coming in hot as our lead Ralphie Parker, Andy Walken is an adorable new fan favorite. According to Cinema Blend, production embarked on a nationwide casting search for this role and landed on 11-year-old Walken. Andy, don't blow this for us. I'M KIDDING! (No, I'm not.)
Maya Rudolph - Mother Parker
Like I said, MAYA RUDOLPH, everyone! You guys know her as God's gift to earth, but you also definitely recognize her from Saturday Night Live, Bridesmaids, and many, many more movies. She'll be playing the nurturing role of Mother Parker and will stand in as all of our real moms for one night.
Matthew Broderick - Adult Ralphie
Now that I've said it, doesn't it make so, SO much sense? Broderick's background includes an impressive array of both on-screen and live-theater experience, making him a dream cast member for a televised live production. But, here's the thing! In the movie, we legit never, ever see Adult Ralphie. We just hear Adult Ralphie. Stay tuned to see what happens on FOX.
Jane Krakowski - Miss Shields
YUP, YOU SURE ARE READING THAT RIGHT. Comedy icon Jane Krakowski is stepping in as Miss Shields and I am loving it. Lord, please give this woman a dance number. You know her as Jenna from 30 Rock, Jacqueline on The Unbreakable Kimmy Schmidt, and in my literal dreams.
Chris Diamantopoulos - Old Man Parker
Sure, when he rocks a beard he might be a touch too good looking for his role as Ralphie's dad, but I'm not here to judge. You know Diamantopoulos from his work on the hit series Silicon Valley, and you'll soon know him for his work as the leg lamp-loving father from A Christmas Story Live!
Ana Gasteyer - Mrs. Schwartz
Yes, yes, yes to more hilarious women in this show! Gasteyer will be stepping in as the mother to Ralphie's bestie Schwartz, and is sure to deliver us some epic comedic timing, dry line delivery, and the giggles. This also isn't her first live movie adaptation, as you might remember her from Grease: Live!
Ken Jeong - Salesman and Restaurant Owner
Hell YES, let's sprinkle in a little Ken Jeong. Best known for his comedic triumphs like The Hangover, Community, and his own series, Dr. Ken, Jeong is going to make two cameos in A Christmas Story Live!: one as a Christmas tree salesman and also as a restaurant owner.
David Alan Grier - Santa Claus
Another comedy and musical legend! Grier is going to be making his A Christmas Story Live! big appearance as Santa himself. He's also graced a TV musical stage before as The Cowardly Lion in NBC's The Wiz Live!, and is a three-time Grammy and Tony nominee. NBD.
Ralphie's crew of friends will be stacked with new teen actors as well, making this show a great mix of clear up-and-coming childhood stars and OG talent.
Catch the whole shebang go down on Dec. 17, 7 p.m. EST on FOX.
Check out the entire Gen Why series and other videos on Facebook and the Bustle app across Apple TV, Roku, and Amazon Fire TV.