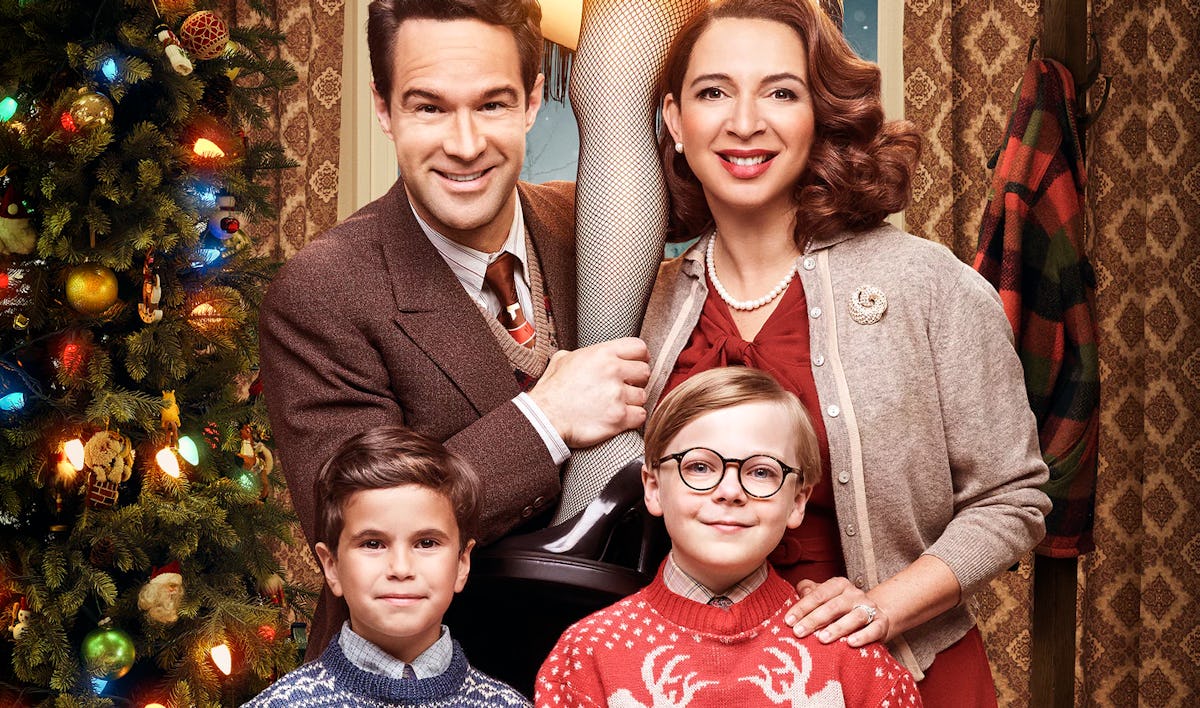 Here's How 'Christmas Story Live!' Will Differ From The Original
Tommy Garcia / FOX
Get ready to stick your tongue on that frozen pole allll over again. There's a new adaptation of A Christmas Story heading to the small screen, and it's got a thrilling twist to it. A Christmas Story Live! versus A Christmas Story shows just how different (and, dare I say, potentially better?) the live show will be.
For all you purists out there, shut your eyes ASAP. A Christmas Story Live! is going to be a musical, which means you'll still get all the Red Ryder BB Gun action you asked Santa for, just in a much more theatrical way. The show, which will air on Fox on Dec. 17, will be a merging of the classic holiday film A Christmas Story, and the Tony Award-nominated Broadway show A Christmas Story: The Musical.
Are you sold yet? Because there's a whole lot more.
For all of you still humming "City of Stars," and "Sincerely, Me" in the shower, this one is for you. Benj Pasek and Justin Paul (Dear Evan Hansen, La La Land) will write original music for the show, which kind of automatically means that the songs will be epically, hauntingly beautiful. Sadly, Ryan Gosling will not be included in this package.
The show's executive producers include Marc Platt (La La Land, Grease: Live, Wicked) and Robert Cary (Grease: Live, Anything But Love, Ira & Abby), and the show will be narrated by Matthew Broderick. Cast members include Jane Krakowski, Maya Rudolph, and Broadway star Chris Diamantopoulos. Newcomer Andy Walken will play the pivotal role of Ralphie, and he's definitely already nailing the iconic glasses look.
This whole production is going to both be super fun for us to watch, and super stressful for the actors to shoot. I mean, the whole thing is live, which just sounds completely terrifying. Also, there's literally an audience that follows the cast around as they perform.
"This is our final week of rehearsal," Broderick told The New York Post in a Dec. 13 interview. "It's extremely complicated, just trying to get it staged in a way that actors get to the right set at the right time."
It's especially difficult for Broderick because he is in almost every scene. He explained,
I'm a narrator who doesn't get to look at a book and talk into a mike... They should have hired a newscaster.
The one advantage to performing live? His wife Sarah Jessica Parker can check in via text message throughout and let him know "how it's going or to zip up [his] fly." Find yourself someone who will always make sure your fly... or your jacket... or your snowsuit... is zipped up.
Now, obviously devoted Christmas Story fans might be a little skeptical when it comes to this new, revamped version. Executive Producer Marc Platt reassured viewers that they'll get the best of both worlds. He told Broadway World,
The challenge of adapting something so beloved is to be sure that you be respectful of the original material, and that you are delivering for an audience all the elements that people who love the film need to see to be satisfied. And the same with the musical. You have all these great musical moments and beautiful score to land, but also want to deliver an experience that is unique, that no one has ever experienced before in this new genre of a live television version.
They better not try to get "unique" with the leg lamp, is all I'm saying. Some things are perfect just as they are.
Platt added that the live show will be a fun, nostalgic trip down memory lane, and will feel like a nice heaping of "comfort food," though, so I feel pretty safe. After the disaster that was 2017, I feel like we could use all the comfort food we can get. Bring it on, Ralphie. We're counting on you.