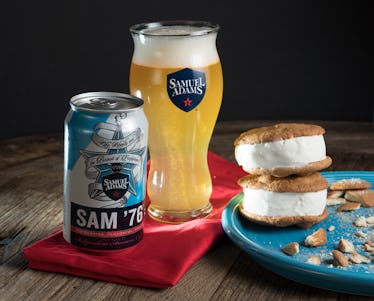 This Beer-Infused Ice Cream Sandwich Is The Boozy Dessert Of Your Dreams
Samuel Adam's
I grew up eating ice cream sandwiches, but they were never alcoholic. In fact, I never knew an alcoholic ice cream sandwich could exist, but an innovative beer company just proved me wrong. It's true: The '76er ice cream sandwich by Samuel Adam's is beer-infused, and it's totally changing the game for ice cream sandwich lovers everywhere. Get ready for a boozy twist on your favorite childhood dessert, because The '76er is available for the summer.
This buzz-worthy delicacy became available in New York amidst a law that finally made alcoholic ice cream legal in the state, which was signed by Gov. Andrew Cuomo on Tuesday, July 10. With that being said, The '76er is currently available in New York City at Melt's Lower East Side location. It's only on the menu until National Ice Cream Sandwich Day (Aug. 2), so make sure you take a trip to the ice cream shop while you can.
Before you frantically search for your ID and head to The Big Apple, rest assured that you do not have to be over 21 years old to enjoy this "boozy" dessert. A Sam Adam's spokesperson tells Elite Daily that the process of making the sandwich cooks the alcohol down to a point where it's so low that you don't have to be of legal drinking age to enjoy it.
In other words, you won't get a hangover from having too many of these (but you might be in a sugar coma when you're done).
Now that you know that basic details about this boozy dessert, let's talk about what it's actually made of. The ice cream inside the sandwich is infused with Samuel Adam's new beer, Sam '76. When sipped by itself, the new brew has a 4.6 percent ABV and is brewed with a variety of hops including Casacade, Citra, Mosaic, and Simcoe, according to a press release. Apparently, the beer has an initial flavor of an ale with the refreshing finish of a lager. Of course, the flavor of the beer (along with the alcohol percentage) is cooked down during the process of making The '76er ice cream sandwich — so don't expect a dessert that that tastes like a pint when you order one.
The cookies that encase the beer-infused ice cream of The '76er are just as unique as the ice cream itself (they aren't beer-infused, but they still sound delicious). Instead of your typical chocolate shell, The '76er uses two homemade peanut butter cookies to hold the ice cream in place. Altogether, the dessert sounds like the perfect sweet treat for a summer afternoon in the park — a post-work snack, if you're not in the mood for Happy Hour at the bar.
I don't know about you, but I'm all about boozy dessert. If you feel the same way, you should know that beer-infused ice cream isn't your only selection of the summer. If you're more of a rosé drinker than a beer connoisseur, you should try Angry Orchard Rosé Ice Cream. This rosé-infused treat contains alcohol, and you must be 21 years old to purchase it. If you're interested, stop by Davey's Ice Cream in New York City for a boozy scoop.
Whichever alcoholic ice cream you choose, be sure to scoop responsibly.