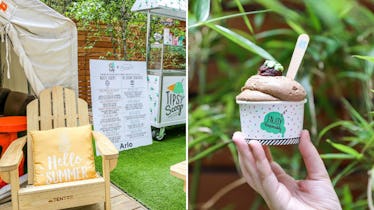 A Boozy Ice Cream Camp Exists & Here's How You Can Get A Scoop (Or Five) This Summer
When you think of summer, I'm sure ice cream and camping are two of the first things that come to mind. You likely have a bucket list filled to the brim with activities that take advantage of the sunshine and warm weather. Therefore, with Camp Arlo's boozy ice cream in NYC, you'll be able to check off multiple things if you're 21 and up. This pop-up "Barlour" at the Arlo SoHo hotel brings the camping vibes to the city with their glamping-inspired Tentrr tents. Lounge with your friends as you enjoy some alcoholic ice cream and cocktails from Tipsy Scoop.
Just imagine you and your besties heading to Camp Arlo for happy hour after a long day spent under fluorescent lights in the office. You get to kick back and relax in a fancy tent, while enjoying boozy ice cream. Sounds like paradise, am I right? Plus, not only do they have drinks and ice cream, but according to Do NYC, Camp Arlo also has a fully summer-inspired menu with hot dogs and s'mores. So, if you're in the NYC area this summer, you need to add this dreamy pop-up to your to-do list, now.
Camp Arlo is the same pop-up that brought the boozy hot chocolate, shotskis, and delicious hot buttered rum during the winter months for New Yorkers to savor. Now, they've retired the wool blankets and festive decor, and re-decorated with a summery look of striped umbrellas, picnic tables, and chic throw pillows.
Real talk: This place truly is Instagram #goals.
Escape the heat and cool off with a boozy ice cream menu.
I scream, you scream, we'll all be screaming once you take a look at this dope menu offered at Camp Arlo.
You'll be able to order scoops of summery flavors of Tipsy Scoop's ice cream, in addition to Muddling Memories cocktails inspired by ice cream flavors. The "Some Spike it Hot" cocktail features Tipsy Scoop's Tequila Mexican "Hot" Chocolate flavor, and the "Enchanted Rose" includes Tipsy Scoop's Raspberry Limoncello Sorbet.
Personally, I can't wait to try their "Oh My Affogot Toh" with spiked Hazelnut Coffee ice cream and a doughnut garnish. That cocktail is made for the "donut worry, be happy" caption on the 'Gram.
If you also have DŌ, the iconic edible cookie dough shop, on your NYC bucket list of tasty treats, you'll want to order yourself the "Young Grasshopper" ice cream cocktail. This delicious drink has both Tipsy Scoop's spiked Mint Chip ice cream, and DŌ cookie dough. Snap a foodie pic, and don't forget to caption it with, "We were mint for each other."
Say "hello" to summer in the most in-tents way.
Not only will you be savoring some pretty sweet treats, but you and your friends can also enjoy the cozy tents filled with couches and lounge chairs. It's a relaxing pit stop for after work, a lazy weekend spent in the city, or just a Friday night out with the girls. If you're looking to stop by this tent pop-up, the portable boozy cart is open for business on weekdays from 2 p.m. to 9 p.m., and on weekends from 12 p.m. to 9 p.m.
Outside of Tipsy Scoop's Barlour, this is the only place you can get yourself a scoop of the alcoholic ice cream in the city. Though, if you're anywhere outside of New York City, you can always recreate this summer magical venue by setting up your own glamping style tent in your backyard, and ordering some Tipsy Scoop online. Either way, make this a summer you'll always remember by checking off every last thing on that season bucket list of yours.