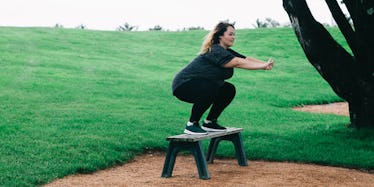 Here Are The 7 Best Workouts To Do Outside When The Weather Finally Warms Up A Little
The warmer weather is (finally) right around the corner, and that means it's time to slowly emerge from your state of hibernation, and make your way outside as often as humanly possible. As much as you've grown to love your challenging sweat sessions at the gym, the weather is far too beautiful to be cooped up indoors, and let's be real, your workout routine is simply begging for some fresh air. Oh, and in case you were wondering, the best workouts to do outside have absolutely nothing to do with running — so, yeah, we can all low-key rejoice now.
I don't know about you, but when I see through my window that the sun is shining, and the birds are chirping, I casually get stressed that I'm not outside making the most of the weather. Like, there is no way I'm missing out on a second of this sh*t, because when next winter rolls around, I know I'm going to regret having wasted those precious few months of warmth and sunlight.
When it comes to getting your sweat on, hitting up a local park is such a great way to get your body moving and your heart pumping, with minimal equipment required. Try these seven workouts that are perfect for the warmer weather — and save the treadmill time for a rainy day.