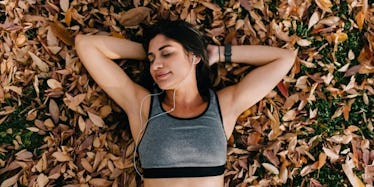 7 Outdoor Workouts That Are Perfect For The Beautiful Fall Weather
When autumn rolls around, the sun is golden and bright, the leaves are crunchy, the air is crisp, and it's the perfect time to take your sweat sesh outdoors. Summer workouts are basically a surefire way to sweat your ass off and dehydrate your body, and winter workouts? Forget about it; you can find me hibernating my life away until spring rolls around. That's why there's no better time than now to take advantage of this window of beautiful weather by making a list of outdoor workout ideas for the fall.
Plus, the health benefits of taking your exercise outside every now and then are not to be ignored. According to Women's Health, breathing fresh air during a workout (instead of the stagnant and recycled air of a typical gym) can inspire euphoric feelings because of the increase in feel-good endorphins pumping through your body. A 2011 review published in the journal Environmental Science & Technology even showed that outdoor workouts can inspire positive thoughts, improve energy levels, and spark feelings of revitalization. And when you feel happier, it becomes that much easier to push your body and challenge yourself during your sweat sesh.
So if you're considering taking advantage of the gorgeous fall weather while it lasts, here are seven outdoor workouts you can try.
1. Scenic Hiking
A good hike can literally make you happier and healthier, according to Huffington Post. From lowering blood pressure, to reducing the risk of stroke, diabetes, and heart disease, you have no reason not to break out those hiking boots and find a buddy to head to the hills with.
Hiking during the fall is seriously breathtaking, especially when the leaves begin to change colors, so you're sure to enjoy an incredible view while you power through a little cardio.
2. Trail Running
If you're so over staring at your own reflection on a tedious treadmill trot, autumn is the ideal time to experiment with taking your jog to a new trail.
Trail running improves balance and coordination (take it from a girl who's face-planted after tripping over a tree stub many a time) and keeps your cardio sesh interesting by providing the most gorgeous views nature has to offer.
3. Sunset Yoga
If you've never taken your yoga flow outdoors, the fall weather is an amazing time to do so.
There are so many outdoor yoga classes available to sign up for, or you could just grab a couple of friends and craft your own flow together.
The "golden hour" at sunset will be beyond beautiful for all of your balances, and the lovely backdrop is perfect for a relaxing savasana.
4. Jumping Rope
Dig out your dusty jump rope and make a major crunch in the fall leaves with this heart-healthy workout.
You could do this sweaty cardio exercise solo, or The Emperor's New Groove style with a friend -- so many options, so many opportunities to embody Kronk.
5. Outdoor Sports
From football, to baseball, to lacrosse, to pickup games, there are endless ways to grab some family and friends and have some healthy fall fun.
There are a bunch of autumn leagues you can sign up for, or you can make your own game and enjoy a little healthy competition. The teamwork will be a nice change if you're used to sweating it out solo.
6. Kayaking Or Canoeing
Kayaking and canoeing are excellent low-impact activities that reduce stress and provide amazing #views.
Plus, if you're taking your boat out at a local beach, beaches are generally less crowded during fall, making it optimal for your paddling adventures.
Trust me, the reflection of the fall foliage during your canoe cardio will be well worth the effort.
7. Biking With A View
Cycling outdoors is a great way to get a full-body workout while relishing your day in the perfect outdoor weather.
Don't worry, you can ditch your favorite Soul Cycle class for now. It'll be waiting for you when winter comes.