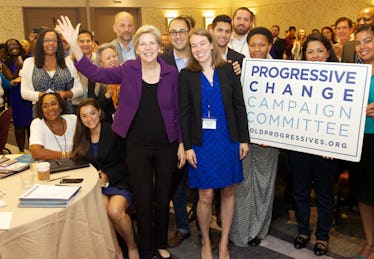 The 2018 Elections Are Deeply Personal For Many Progressive Candidates
Progressive Change Campaign Committee
The November elections are just shy of seven months away, and it might be too soon to make any calls about outcomes. But if the candidates in the midterm races tell us anything, it's this: 2018 seems to be the year of the outsider. For this alone, the 2018 elections are already a big deal.
This year's candidates show that the elections aren't limited to the traditional crop of political players. A record number of scientists, for example, have put their names in the ring for the midterms. Meanwhile, as NBC reports, more and more millennials have announced their candidacies. And it makes sense: they nearly doubled their voter turnout from 2008 to 2016, and they're projected to be the largest voting group in the next presidential election, per Pew Research. I spoke with one such woman, 34-year-old Katie Muth about what it's like to be one such candidate. Muth, an anatomy professor and athletic trainer, is running for state senate in Pennsylvania's 44th district currently, which is held by long-time incumbent John Rafferty.
Adam Green, one of the co-founders of the Progressive Change Campaign Committee (PCCC) a grassroots organization that works to get progressives into office, tells me he's noticed more candidates like Muth coming from outside the traditional career-politician circle, taking the leap to run.
"Victory begets victory; momentum begets momentum," Green says. Wins like those by Conor Lamb in Pennsylvania, Doug Jones in Alabama, and Danica Roem in Virginia have helped "give other people across the country confidence that they can run and win as non-establishment people," he adds, that outsiders winning elections "can be the new political norm."
Many of these candidates, he adds, have personal stakes in political issues that have driven them to run out of necessity. They've gone from marching in the streets to putting their names on ballots to ensure their voices are heard in government.
"It's a real new class of candidates ... whose act of resistance is making the decision to run for office," Green says. One candidate he mentions, for instance, had brain cancer and decided to run for office as his member of Congress was threatening to repeal the Affordable Care Act.
When it comes to non-traditional candidates, the PCCC, which is hosting a candidate training this week, is a case in point: The organizers note an increase in young adults, women, and people of color especially. Of the nearly 500 attendees expected at the training, some 40 percent are under age 35, 80 percent are first-time candidates, over half are women, and nearly half are people of color.
It's evident that Muth doesn't fit the profile most voters have come to expect from elected officials. While canvassing, she says, people ask if she's even old enough to hold the office she's running for. "I think women are damned if they're too young, damned if they're too old," she says jokingly. And the stereotypes go on: "A lot of people ask my husband and I how we decide which one of us would run for office … because it's usually the man. Another question they ask is how old our children are, assuming that I have them."
But overall, the responses to her as a candidate outside the norm have been overwhelmingly positive, and to date, Muth has raised $66,000 in small-dollar donations. And she says she and fellow women candidates for other districts have bonded together to help each other achieve victory.
A record number of women are running for office, too, and it's a diverse crowd. Per Black Women in Politics, more than 600 black women have signaled their intention to run for office in 2018 across all levels of government nationwide. Among these women running are single moms, like Cathy Myers, who's challenging Speaker of the House Paul Ryan in Wisconsin, and Adia McClellan Winfrey, running for the U.S. House in deep-red Alabama. All three of these women — Muth, Myers, and Winfrey — are looking to unseat white male Republicans who've held their respective office for at least 15 years. And all of them come from diverse career backgrounds: Myers is a long-time high school teacher; Winfrey, a psychologist with ties to the hip-hop community; Muth, an athletic trainer.
Green says he's also noticed more candidates like Muth who have deeply personal ties to the issues. "The messenger is part of the message," he says. Muth is no exception.
Implementing policies to support working women, a central component of Muth's campaign, stems from her personal experience. She makes about half of what her husband does in the same occupation. (While they both have their Master's degrees; hers is in athletic training while his is in higher education.) The gender pay gap is a one of the issues high on her priority list.
At a candidate forum for a neighboring district's race, Muth recalls, one of the candidates, an older man, said he was the best choice because he could self-fund his race. "'So we [women] aren't good candidates because we can't drop 50 grand into our race?'" she asked him. "This is a huge limitation for women to even run for office. How could a woman of color run for office when two-thirds of the people making minimum wage in Pennsylvania are women of color? Not to mention, not having childcare and family leave time."
But for Muth, the 2016 campaign also hit a deeper nerve, continuing the trend of running for personal as well as political reasons. "It was really after the second presidential debate that I became infuriated," Muth tells me. "I'm also victim of rape. ... That part of my story wasn't something I'd shared with anybody, not even my husband."
As of December 2017, Trump has been accused of sexual misconduct by 19 women, according to The Atlantic; both he and the White House have denied all allegations. But Trump's rise to power despite this has only fueled Muth's run. "Waking up everyday knowing a lot of people voted for someone who's a sexual predator," Muth adds, "That's the thing inside of me that burns, that if I ever wanted to quit this [campaign], it'd refuse."
"This is a moral investment we've made in our lives," Muth says of her candidacy. "I'm running because we desperately need change. God forbid I lose, I'm gonna run again. This isn't a hobby."