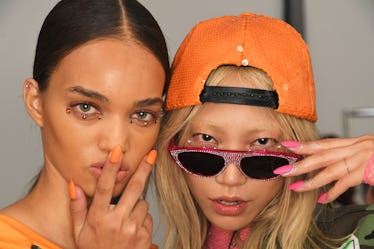 The Beauty Trend You Have To Try In 2018, According To Your Zodiac Sign
Jennifer Graylock/Getty Images Entertainment/Getty Images
Thankfully 2017 is coming to a close, and a bright and shiny year is on the horizon. It's time to ditch the old and dusty trends of yesteryear, and embrace the new fads 2018 has to offer. There's no better way to decide what beauty trend to try in 2018 than trusting what's written in the stars. If you avoid leaving the house when your horoscope tells you you might run into an ex-lover, or if you notoriously explain away your shadiness by blaming your astrological sign, then read on to let your sign determine how you'll be applying your makeup in 2018.
From glitter lids to graphic liner, metallic lips to dewy skin, 2018 makeup trends are about to explode like a cosmetic confetti piñata. This upcoming year, you can expect makeup to be much more whimsical and carefree than the restrained matte lip and warm shadow trends of 2017. With so many exciting looks to choose from, how does one decide whether a rhinestoned lashline or a luminous inner corner will suit him or her best?
Just rely on fate, aka your zodiac sign. The look a Scorpio would passionately love is very different from the everyday makeup a Capricorn would consider a part of their uniform. If you're not sure how to express your sun sign on the outside in 2018, then keep reading because I've done all the work for you.
Capricorn
We know you like a more classic look, Capricorn. That's why you should take a note from Michael Kors and opt for a simple clean complexion in 2018. A little well-placed concealer and bronzer go a long way. Give the Lancôme Teint Idole Ultra Wear Camouflage Concealer ($31; sephora.com) and Guerlain Terracotta Bronzing Mist ($64; sephora.com) a whirl.
Aquarius
Dewy skin is back in for you, Aquarius. Get the wet look à la Pamella Roland with the Ciaté London Dewy Stix Luminous Highlighting Balm ($26; sephora.com). Place it along the high points of the face, and tap a little extra on the lids and lips.
Pisces
Release you inner child, imaginative Pisces, by rubbing some glitter all over your face. For easy application, grab some Lemonhead LA Lady Mercury Spacejam ($32; getlemonhead.com) and get sparkling ASAP.
Aries
If Dior says chunky lashes are back, then chunky lashes are back. No one will carry this trend off quite like you, Aries. To get that pieced together look, apply a generous amount of Diorshow Mascara ($29; sephora.com) and pinch your lashes together in clumps.
Taurus
Rounded liner, like this look from the Jason Wu runway, is popping up everywhere, Taurus, and who better to bring it to life than your grounded self? Use the L'Oréal Voluminous Smoldering Eyeliner ($10; ulta.com) to achieve this perfectly imperfect look.
Gemini
Palettes are out, and single shadows are back in for 2018. Express your seemingly innocent nature with a soft wash of pastel pink from the lashline to the brow bone, just like this look from the Valentino show. Just wash Sephora Collection Colorful Eyeshadow in Prom Queen ($5; sephora.com) all over with a soft, fluffy brush.
Cancer
If some well placed rhinestones on the lower lashline doesn't scream Cancer, I don't know what does. Jeremy Scott really nailed the Cancer vibe with this look from his 2018 show. These adhesive Glitter Disco Child Disco Confetti Face Gems ($12; dollskill.com) will have you blinging with ease.
Leo
Only you deserve to be drenched in gold at all times, Leo. Now you can be with the Fenty Beauty by Rihanna Killawatt Freestyle Highlighter in Trophy Wife ($34; sephora.com). Sweep it all over cheekbones and eyelids for a look that pops right off of the Fenty runway.
Virgo
Emphasize your wide-eyed innocence, Virgo, with this silvery inner corner moment from the Ralph & Russo show. To get the bright eyed and bushy tailed look, draw a little Marc Jacobs Beauty Twinkle Pop Stick Eyeshadow in Frannie ($28; sephora.com) into the inner corner and drag halfway across the upper and lower lashlines.
Libra
Only a Libra could achieve the balance necessary to recreate the underliner wing from the Jill Stuart show. To get that rich saturation in one fell swoop, use the Maybelline Eyestudio Lasting Drama Waterproof Gel Pencil ($8; ulta.com).
Scorpio
Hey, fellow Scorpio. We're already intense as is and prone to RBF, so we might as well enhance it. This graphic liner look from the Marc Jacobs runway just screams Pluto goddess. To get those sharp, clean lines, use the Marc Jacobs Beauty Magic Marc'er Precision Pen Waterproof Liquid Eyeliner in Blacquer ($30; sephora.com).
Sagittarius
Nothing is more perfect for a Sagittarius than an adventurous Maison Margiela metallic lips. Now, you don't have to glue little metallic sheets to your lips because, IRL, how would you eat anything with it on? Bummer. To get the metallic look in a more wearable way, use the Smashbox Be Legendary Liquid Lip in Crimson Chrome ($24; sephora.com).
Are you excited for Jan. 1 now? Step in to 2018 right by embracing all the fun new makeup trends that the new year has to offer.