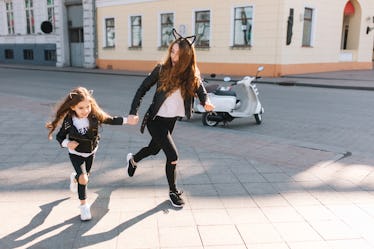 Put On Your #CoolAunt Crown & Do These 10 TikTok Challenges With Your Niece
Shutterstock
As a cool aunt, you'll take any chance you can get to spend time with your adorable niece. If you happen to be quarantined together due to COVID-19, it's time to do something fresh at home with your favorite kid in the world. Since you may spend a lot of your free time scrolling through TikTok, you're familiar with the trending dances and some of the best TikTok challenges to do with your niece.
You can do these TikTok challenges with your roomie, bestie, or sibling as well, but they're especially cute when you try them with your fave kid (because they make literally everything more adorbs). If you like to bake together, record yourselves whipping up cookies in the kitchen. Not only will you get a TikTok vid that's worthy of a million views, but some cookies to enjoy, too. There are also dance challenges that are super simple and fun to nail down.
Of course, some of the sweetest ideas blossom from simply spending time together building forts, racing through homemade obstacle courses, and playing dress-up. The possibilities are never-ending when it comes to TikTok trends, so it's time for you to wear that #CoolAunt crown with pride and get to TikTok-ing.