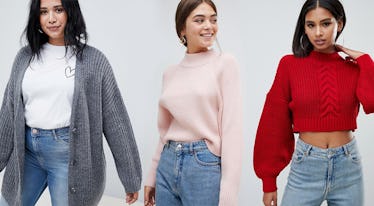 The 10 Best Sweaters From ASOS Under $50 Prove You Really Can Look Trendy (& Cozy!) On A Budget
Ladies and gentlemen, sweater weather is here, so it's officially time to step up our knitwear game. While I personally consider my closet to be stacked with some pretty great sweaters, there's always room for improvement — at least, thats what my inner shopaholic tells me. My recent online shopping endeavors have resulted in the following: a curated list of the top 10 best sweaters from ASOS under $50. ASOS can get pretty pricy, and it can be tempting to scroll through all their luxurious knits, but save yourself the heartbreak and shop from the list below instead. ASOS currently has 1145 pieces priced at $50 and below listed in the "Sweaters & Cardigans for Women" category on the site, and I looked through all of them so that you only had to see the best of the best. Good friend alert.
Let's start things off with a rainbow ray of sunshine, aka this New Look High Neck Sweater in Cream Stripe ($45, us.asos.com). This is exactly the kind of piece I reach for on a dreary, rainy day; it's cozy enough for me to snuggle up in, yet bright and cheery enough to lift my winter weather spirits.
Next up is another gem, as well as a must-have for virtually every closet: the perfect white cable knit sweater. This Urban Bliss Plus Cable Knit Roll Neck With Tassle Detail ($45, us.asos.com) is an absolute wardrobe staple (available in standard sizing as well) that has a fun update thanks to the fringe details on the sleeves. It's the kind of sweater you buy for one specific event and then end up wearing weekly for years of winters to come. So if you don't already have one, this is your year.
If you're all about this season's major animal print trend, rest assured that ASOS has you covered, as the ASOS Design Leopard Sleeve Sweater ($48, us.asos.com) is just one of many leopard sweaters in stock. I personally like this one the best because of its black base and actual leopards incorporated into the pattern itself; considering I have a million tops with the standard pattern at this point, this feels like a fun change, without having to sacrifice my love for the trend.
Another huge trend that's surviving the leap from fall to winter is mustard, and I personally love a slightly brighter shade to jazz up my standard winter neutrals. The Bershka Eyelash Texture Roll Neck Sweater ($32, us.asos.com) is a total steal for a great everyday piece, and the soft, textured knit and roll neck top keep the vibrant hue looking chic, not childish.
If you are looking for something a little more fun, ASOS has a variety of seriously-not-ugly ugly Christmas sweaters, my favorite of which has to be the PrettyLittleThing Holidays Sweater With Pom Poms In Black ($48, us.asos.com). This comfy long-sleeved little number is embellished with red, green, blue, and yellow pom poms, meant to resemble ornaments on a Christmas Tree. It's just silly enough to pass the ugly Christmas sweater party test, while still cute enough to post your party pics on Instagram without regretting your look. (No shade to anyone who goes all out; I'm just tryna get a kiss under the mistletoe, you feel me?)
Next up on our trend must-have list is a good cardi, hold the B. Cardigans are back and better than ever, and while I strongly recommend grabbing a few in statement shades to spice up basic looks, it's best to start with a staple piece, like this gray ASOS DESIGN Curve Oversize Cardigan in Chunky Rib with Buttons ($48, us.asos.com). Be honest: does this not give you socially acceptable blanket vibes? I feel like I could throw this over any outfit and instantly gain the comfort of wearing pajamas. The drop shoulders and oversized fit make for a slouchy vibe that can add a laid-back look to everything from dresses and skirts to jeans and a tee.
You definitely know that turtlenecks are super in this season, but did you realize neons were also making waves? This COLLUSION Ribbed Sweater with High Neck ($37, us.asos.com) delivers the best of both worlds, with a highlighter hue (think school supplies, not cheekbone glow) contrasted by black stitching. The statement shade is bold, but the black ribbing tones it down in a way that makes it appropriate for everyday wear. Plus, that slightly oversized turtleneck looks ex$pensive, if you ask me.
If you're someone who refuses to let the high-waisted bottoms trend die (read: me too, sis) then it's time to make cropped sweaters your new BFF, because when it comes to thick, chunky knits, sometimes the whole half-tuck situation is harder than Tan France makes it look. The Misguided Balloon Sleeve Cable Knit Cropped Sweater in Red ($35, us.asos.com) manages to be both classic holiday and super trendy at the same time: the cable knit details and bright red hue scream Christmas, but the balloon sleeves and crop cut are so Instagram-approved. If you don't buy this and then pair it with some high-waisted leather pants, then congratulations, you've played yourself.
If you're a dedicated denim gal, you might not know how to feel about this year's plaid trousers trend. Personally, I think the vibe is very cool and office-chic, but I havent found the perfect pair for my curves just yet, so for now I'm sticking with my black skinny jeans. To make the most of the plaid trend, though, I'll pair them with something like the ASOS DESIGN Curve Checked V Neck Sweater with Tipping ($45, us.asos.com), which wins bonus points for being one of the only V neck sweaters in stores right now. Don't get me wrong, I'm definitely pro-turtleneck, but in sweaty situations, a V is a huge relief!
Last but not least, it would be just plain wrong of me to not show you a statement cardi like the Boohoo Petite Shaggy Cardigan in Black ($48, us.asos.com). The textured, tassled fabric is so funky and fun, and if you live somewhere with temperatures too warm to rock the whole fuzzy teddy bear coat trend, a shaggy, cropped cardigan is a reasonable happy medium.
Let's talk: I'm sorry for tempting you with all the above great sweaters, but at under $50 a piece, they really are great deals! My advice is this: go to your closet, take a good look, and if you can't find a turtleneck, a cardigan, and a statement shade that make your heart sing, it's time to treat yourself to some new knits.