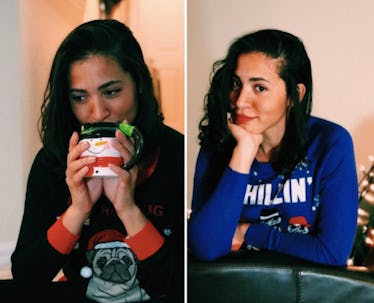 I Wore Ugly Christmas Sweaters In All My Tinder Photos & This Is What Happened
Sydnee Lyons
I collect a lot of things, some more practical than others. I have hoards of postcards from places I've been to, empty wine bottles from special occasions, DVD box sets of '90s sitcoms, and a cardboard box full of Christmas sweaters. The problem with that last item, though, is that I live in South Florida, so my need for thick, wool, jingly sweaters is less than, say, the average Bostonian's. That's why this year I decided to wear ugly Christmas sweaters in all my Tinder photos and I fully intend to make this an annual tradition.
There's nothing I love more than an excuse to get festive — and weird — on dating apps, so I went all out. If you think I didn't stage a full-on photoshoot for this, you haven't been paying attention. I chose four of my favorite sweaters — all recent purchases from the best place on Earth, Target — and commissioned my friends to follow me around my apartment with iPhones in hand and portrait-mode ready to go.
It was a tough decision but I narrowed it down to these four glamour shots, obviously.
This Twinkly Gem That I'll Probably Also Send To My Parents
This Booze Fest (So Potential Matches Know I'm Festive And Fun)
This Cozy Number Because, Who Am I Kidding, I Also Collect Mugs
And This Bright Red Noisemaker Because Who Doesn't Love A Girl Who Jingles?
Once I'd decked the halls of my Tinder profile, I was ready to find my perfect match. To make this clear, I edited my bio to say, "looking for the holly to my jolly." Christmas is only a few short weeks away and I don't have time to waste with any Scrooges. First up, Jameson.
Jameson, 25
Jameson caught me mid-makeover so he didn't notice my new and improved look at first. Instead, he started off with some funny banter about how we should tell people we met.
I went along with it but I needed to bring the conversation back to the holidays. I told him I liked his idea and that we should definitely tell it at the holiday office party. Jameson did the rest for me.
Unfortunately, he didn't have any photo-evidence of his ugly Christmas sweaters but we may or may not be taking Christmas-card photos this weekend. Stay tuned.
Sean, 26
Sean's bio said, "Let's eat," so, naturally, I asked if he would mind if I showed up to dinner in one of my sweaters. Luckily, he was all for it but, like Jameson, he didn't seem to have a sweater on deck.
I was even more worried it wasn't meant to be when he sent me a GIF of the Grinch but then I remembered that even the Grinch got festive every now and then.
He replied with a GIF of the ultimate sweater collector, Carlton Banks of The Fresh Prince of Bel-Air.
Bryce, 24
I'm not convinced Bryce was a fan of my ugly Christmas sweaters. Although, to be fair, his bio did say that he likes animals more than people.
Danny, 24
Full disclosure, I greeted a lot of my matches with, "Hey, happy holidays," but not all of them responded as warmly as Danny did.
Guys on dating apps sometimes ask if I'm a bot, but Danny straight-up thought I was a Christmas ad. If this wasn't weird enough, in this alternate universe where I'm a Christmas ad, Danny is Santa Claus. Oh, and I'm on the naughty list.
Matt, 25
Matt's bio included a very confusing limerick about how people feign interest on first dates and how maybe that becomes actual interest. Uh, OK sure. Anyway, I thought I'd find out if he was really interested in me.
Since we're clearly already at the pet-name stage of our relationship, I think it's safe to say he's into it.
Brian, 27
Brian's down to wear ugly Christmas sweaters with me but he doesn't quite get that the colors of the season are red and green.
Gabe, 23
This experiment was made for Gabe, cynic that he is. He started things off with what felt like a snarky comment about my merriment but I understood why once he opened up.
As one of Santa's Florida-based helpers, I did what I could.
Here's hoping you find the spirit of Christmas on Tinder this year, Gabe.
Now that I've sufficiently spread joy and goodwill to all of my matches, I think I'll put these bad boys (the sweaters, obviously) away until next year.
Check out the entire Gen Why series and other videos on Facebook and the Bustle app across Apple TV, Roku, and Amazon Fire TV.
Check out the "Best of Elite Daily" stream in the Bustle App for more stories just like this!