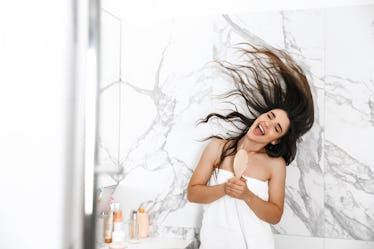 The 10 Best Breakup Songs Of 2019, So You Can Hum As You Heal
Shutterstock
Sometimes, after a breakup, all you want to do is lie in bed and reread old texts from your ex. While it's important to take time to process and feel all your feelings, taking a moment to remember how strong and amazing you are can give you a little jump start on your healing. Whether you're finally ready to put on pants with an actual fly or you're starting to box up all your exes stuff, consider these 10 best breakup songs of 2019 the soundtrack to your single life.
Though there's no easy way to recover from heartbreak, listening to inspiring music can be a great way to express yourself. From cranking up some tunes and belting it out in the shower, to hitting up a dive bar for some powerhouse karaoke with all of your besties, breakup songs are here to help you reclaim your power and restart your life. And while playing your old favorites can be soothing, hearing a new track can give you something to be excited about as you recover from your breakup.
If you're looking for some bops to help you mend your broken heart, here are the 10 most inspiring breakup songs from 2019.