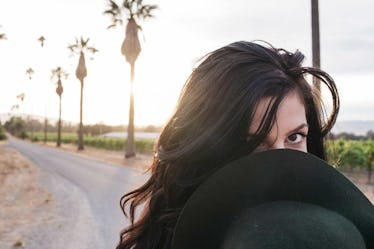 4 Tips For Feeling More Confident When Telling Someone How You Feel
If you'd have asked high school me to rate the difficulty level of telling someone how I feel, I'd probably have put it on par with taking a statistics exam. It's scary, you never feel fully prepared, and worst of all, you don't know how it's going to turn out. The good news? Ultimately, telling someone how you feel doesn't have to be so dreadful.
Most people — no matter how self-assured they are — struggle with this incredibly vulnerable act at some point in time. And there are a number of reasons why it can feel challenging. According to Dr. Gary Brown, a prominent relationship therapist in Los Angeles, it often comes down to emotional safety.
"You really have to look at a primary fear that the majority of people have — which is being abandoned," Brown tells Elite Daily. "This can come in the form of rejection, ridicule, judgment, being shamed, or flat out physically abandoned. This fear can sometimes overwhelm our need to reveal our inner world to someone. It can be hard to open up if we aren't sure if it is safe to do so."
Nicole Richardson, licensed marriage and family therapist, concurs.
"I have yet to meet an adult who does not fear rejection on some level. And of course, rejection is scary!" she adds.
Now that you know you're not alone, rest assured that there are plenty of tactics you can try to feel more confident in sharing your true feelings. Here are a few tried-and-true strategies that experts suggest giving a shot.