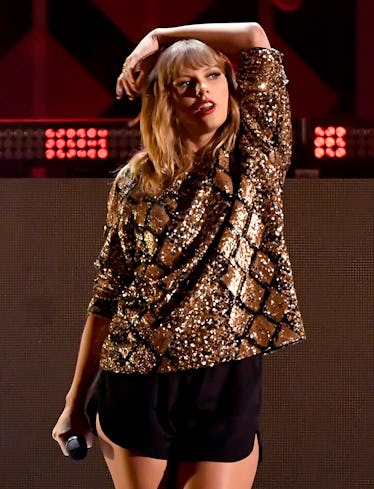 Taylor Swift Is An Outfit Repeater —Just Look At Her "End Game" Video Fashion
Kevin Winter/Getty Images Entertainment/Getty Images
One of the most talked about pop stars on earth is about to earn herself a new reputation, but this time, it's a sartorial one. Taylor Swift's looks in the "End Game" video" are so insanely good that she's just put herself in the running for 2018's running best-dressed list. While the covetable head-to-toe rainbow dress and blue Monsters Inc.-esque fur coat she wears are unmistakably new additions to her wardrobe (although she did wear a very similar technicolor dress to announce her Reputation album release), there is one look Swift wears in the video that we've definitely seen before. Coincidence? Probably not.
When Swift released her fifth studio album 1989 in 2014, one of its tracks in particular spread like wildfire. Called "Bad Blood," it was "not a song about heartbreak. It was about the loss of friendship," Swift told GQ. When the music video for the song came out, people absolutely freaked out over its star-studded cast.
For the project, Swift turned some of her best friends (who also happen to be some of the most famous women in the world) including Lena Dunham, Karlie Kloss, Gigi Hadid, Selena Gomez, Cindy Crawford, Zendaya, Mariska Hargitay, and more into badass superheroes. With them by her side, she defeats a group of men who had double-crossed her at the beginning of the video and stolen her briefcase.
In one scene of the video, Taylor is shown racing on a motorcycle alongside Jessica Alba. She's wearing a sleek motorcycle helmet and black bodysuit. It's this scene that looks curiously familiar to one that appears in her new video for "End Game."
In the new video, Swift can be seen partying in three different cities alongside rapper Future and singer Ed Sheeran, who appear on the track. She dances on a boat in Miami, eats noodles in Tokyo, and rages at a bar in London (it's a hard life, but someone has to live it). During her time in Tokyo, she once again takes a spin on a motorcycle — and the cinematography style and fashion within the scene is so similar to that of the motorcycle scene in "Bad Blood" it's uncanny.
Swift appears in both scenes wearing a black helmet with a clear glass face shield. In both videos, the camera zooms in on her face and, when viewed side by side, stills from each video look insanely familiar. Which begs the question, was the fashion and stylistic resemblance intentional?
"End Game" is a track off of Taylor's newest album Reputation, which dropped last year and addresses everything from her feud with Kanye West to her relationship with Joe Alwyn to how she's been unfairly portrayed in the media. Basically, it seems to be a sonic declaration expressing her selfhood and her desire to be understood authentically. As I see it, she's essentially saying that the reputation she's been given is not her and not fair — but that she will continue being herself despite it all.
Taking this into account, it's fair to speculate that her outfit reputation in the two videos could potentially be a visual way to say, "This is me — this is who I was three years ago and this is still who I am today. I have not changed and I will not change for anyone." If you think this might be a stretch, take into account the fact that celebrities of Swift's caliber have huge teams to catch such repetitions or similarities, should the artist want to avoid them. This one would have a been a huge oversight, and that's why I don't believe it's unintentional.
Regardless, the rest of the fashion within the "End Game" is video is so amazing that it also deserves a shoutout. From the aforementioned sparkly rainbow dress (it's the midi of my dreams!) to the '90s inspired all-black crop top and pant combo, every outfit would be welcomed into my closet with open arms.
And I would repeat the heck out of them.