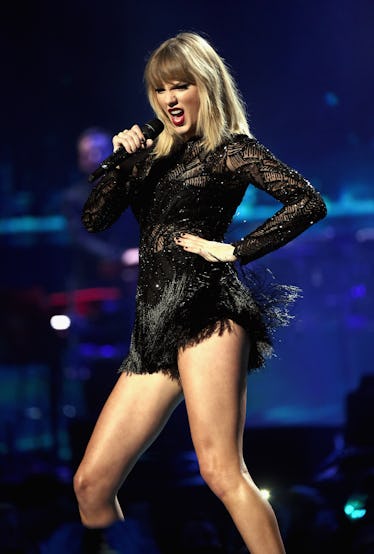 Taylor Swift's "End Game" Music Video Gives A Shout Out To Joe Alwyn & It's So Cute
Kevin Winter/Getty Images Entertainment/Getty Images
Social media goes nuts whenever Taylor Swift releases a new music video, and this time is no different. For the third release from her Reputation album, the pop star goes global, riding a motorcycle, dancing, and partying her way through the bright lights of cities like Miami, Tokyo, and London with Ed Sheeran and Future. Fans watched the clip close to a million times in the first five hours it was up on YouTube — and I'm not surprised because all the Joe Alwyn references in Taylor Swift's End Game video are so just clever!
In case you missed it, Swift released her latest music video for "End Game" at midnight on Jan. 12. Oh, you didn't stay up for it like I did? Then let me get you up to speed. The production — shot by the singer's go-to director, Joseph Kahn — is basically a big, epic celebration that I would totally kill to be a part of. I mean, in one of the very first scenes, Swift is living it up on a yacht and singing about her "big reputation" while holding up a drink accessorized with a glitzy gold swizzle stick — wink, wink — so you know we're going to be in for quite a wild ride.
You can check it all out here:
See what I mean? Swift's fans are loving this cool-kid trip around the world, but it's really all the low-key allusions to boyfriend Alwyn — aka her "end game" — that has the internet freaking out big time. For starters, as one Twitter user pointed out, the video ends in London, where Alwyn grew up.
Cool idea, right? And not only that, but as another Tweeter surmised, the last shot is reportedly of the 26-year-old actor's former school.
In fact, according to the Telegraph, the entire video is an homage to Swift's relationship with Joe, and features several spots — including the kebab shop — where the two have been known to hang out.
"The video shows Taylor on a night out," a source told the publication. "All of the locations are places she has been to with Joe. She has spent months quietly going under the radar in London this year and has been out a lot more than anybody realizes."
Mind = blown.
But let's rewind for a sec. Because before our girl T. Swizzle gets to London, she makes a pit stop in Tokyo to party it up with Sheeran and get her karaoke and Dance, Dance Revolution on. She also traipses around the city streets in a killer pair of black patent-leather platform boots. And you know what else one of her fans noticed? That one of the signs in the background features a word that translates to "Joe" in Japanese!
Pretty sneaky, sis!
Someone on Tumblr also pointed out that Swift is wearing a "J" necklace in the post-party robe scene:
And get this: still another eagle-eyed Tweeter came to the conclusion that Swift is rocking Joe's jacket while tossing back a shot in that karaoke lounge with Ed:
Sidebar: How much do we all want to party with Ed Sheeran now?
Of course, whether or not this is actually Joe's jacket on Taylor remains to be seen. But we do know that 1) the Boy Erased star has a thing for plaid:
And 2) Taylor likes to swipe his clothes and wrap herself up in them...
So I'm gonna go ahead and believe in the whole "borrowed plaid" theory because it's just too cute to not be true. And let's not forget that the song's lyrics seem to be all about Alwyn, too:
I wanna be your end game
I wanna be your first string
I wanna be your A-Team
I wanna be your end game, end game
Here's hoping Alwyn really is Taylor's end game and our girl finally found her Romeo and gets that epic "Love Story" she's been waiting for.