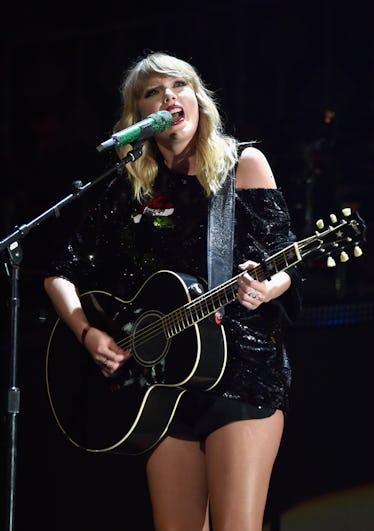 Tweets About Taylor Swift's "End Game" Music Video Prove Fans Are Ready To Join The Party
Theo Wargo/Getty Images Entertainment/Getty Images
You know you're off to a good year when Taylor Swift graces you with a new music video. It's almost as if you no longer care about sticking to your resolutions, because there are more important things to focus on (if I'm being honest, I wasn't going to stick to my resolutions anyway, so this is just the perfect excuse – thanks, Taylor!). When Swift took to Instagram on Jan. 11 to show off a teaser for her "End Game" music video, Swifties were overwhelmed with the amount of stuff going on. We saw Taylor partying on a yacht with Ed Sheeran and Future, we saw fireworks, and we saw some pretty sweet secret messages hidden within the clips (more on that later). But the best part was realizing that at midnight ET, we'd all get to witness the full "End Game" video. Yes! And now that the video is here, fans are going wild. These tweets about Taylor Swift's "End Game" music video prove that Swifties are loving it.
"End Game," Swift's third music video from her album, Reputation, shows off a much lighter side than her first two. "Look What You Made Me Do" and "...Ready For It" seemed to be a bit more fiery, showing off a fiercer side of Swift. But "End Game" seems like the antithesis – and we are loving it. What could be cooler than watching Swift party with Ed Sheeran and Future, walking through the streets as if they own the place? Apparently if you're Swift, you can get cooler.
In the teaser, we saw a ton of katakana writing (as Swift walks down the streets, there were tons of neon signs in the Japanese language, and when she sips her juicebox, the katakana writing appears again), and many people just thought, "Hey, Tay is partying in a foreign city." And, while that's definitely accurate, fans ingeniously decoded what the signs translated to, and apparently, Swift's juice box has the words "End game" written on it, and some of the neon signs translates to parts of Swift's song lyrics (like "A-team" and "I wanna be your first string") and – get ready for this – Swift's cats' names, Meredith and Olivia. There's cool, but having your cats' names in neon lights is on an entirely different level of rad.
We finally got confirmation that the video was shot in Tokyo, Miami, and London – because money was clearly no object for the pop star – and honestly, the whole thing feels less like a music video and more like a highlight reel of the lifestyles of the rich and the famous. We're digging it.
So when we saw the complete video, it did not disappoint. It was basically a major party, and fans were so, so here for it. They took to Twitter to show their appreciation for all-things-Taylor:
Personally, I'm absolutely loving the fact that Ed Sheeran is in this music video. Ever since we saw Swift and Sheeran take the stage together at Jingle Ball in Los Angeles on Dec. 1, it felt only right that he'd be, at the very least, having a small cameo in the "End Game" video. I mean, it's no secret that people love Taylor Swift and Ed Sheeran performing together, so the "End Game" video is like the cherry on top of their friendship. Just look at how much fans flipped out when Ed Sheeran surprised everyone and took the stage next to Taylor Swift:
Actually, same.
I'd just like to say thank you to Taylor Swift, who has essentially made dreams come true with the release of the "End Game" video. We are forever indebted to you.