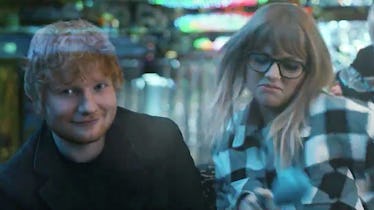 Taylor Swift Was Teasing Her "End Game" Music Video All Along With This Tiny Detail
YouTube
Taylor Swift released Reputation in November after months and months of teasing us with singles and music videos. Once Reputation was actually dropped on Nov. 10, all our lives seemingly went back to normal — with the addition on an entire album full of bops to enjoy. However, Swifty just rocked our world again when she announced on Jan. 11 that she was dropping a star-studded "End Game" music video at midnight. Just like the Fresh Prince of Bel-Air, my life got flipped turned upside down. Obviously, it was amazing and fans can't stop talking about the different locations, fun party scenes, and Swift's overall badassness. There is one detail that Swifties couldn't help noticing — Taylor Swift's rainbow dress in the "End Game" music video.
Swift rocked a dress with a very similar rainbow pattern when teasers for Reputation first started to be released. During the video, Swift sports more outfits than I have in my entire closet, so it's interesting we would be seeing double of something. The rainbow dress that Swift is wearing during her party scenes in London is very similar to the one she wore when she first started teasing Reputation. Was this a clue all along?
The music video included appearances from Future and Ed Sheeran, who both collaborated on the song with Swift. "End Game" fits perfectly with the rest of the sultry and poppy tracks on Reputation, but it's definitely a first for Swift for many different reasons. This was the singer's first song featuring rapper Future. The way Swift went about releasing Reputation and the three music videos so far is unlike anything she's ever done before, as well. Future and Ed Sheeran fit so perfectly in the song, it's hard to believe the three don't make up some sort of hip-hop-pop band.
The song begins with Swift singing, but Future joins in early on. Future's lyrics read:
You so dope, don't overdose /I'm so stoked, I need to toast /We do the most / I'm in the ghost like I'm whipping a boat /I got a reputation girl that don't precede me / I'm a call away / Whenever you need me /I'm in a G5 /Come to the A-side / I got a bad boy persona, that's what they like /You love it /I love it too cause you my type /You hold me down and I protect you with my life
Ed Sheeran makes his appearance later in the song. His voice is smooth as butter (as per usual). Sheeran sings,
Now well, when I was young, we connected / When we were a little bit older, both sprung / I got issues and chips on both of my shoulders / Reputation precedes me / And rumors I'm knee deep / The truth is it's easier to ignore it, believe me / And even when we'd argue we'd not do it for long / And you understand the good and bad end up in a song / For all your beautiful traits and the way you do it with ease / For all of my flaws, paranoia and insecurities / I made mistakes and made some choices that's hard to deny / After the storm something was born on the Fourth of July / I pass days with a funk / This end game isn't won / With four words on the tip of my tongue / (I'll never say it)
I'm loving Swift's new vibe, AND I WANT MORE MUSIC VIDEOS. "End Game" is the third video to come from the album behind "Look What You Made Me Do" and "... Ready For It?" All three have the same kind of look and lighting, so maybe there's a theme happening here? Knowing Swift, we'll just have to wait and see.
Check out the entire Gen Why series and other videos on Facebook and the Bustle app across Apple TV, Roku, and Amazon Fire TV.