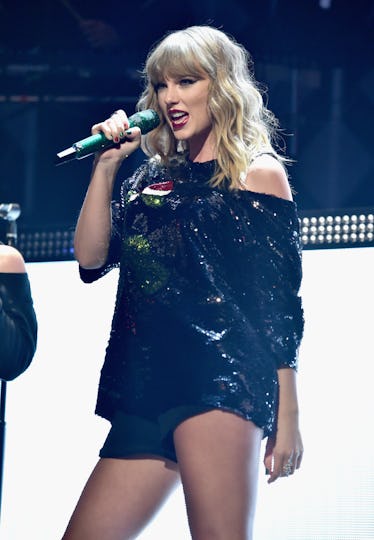 Taylor Swift Dropped A New Music Video & There's A Tiny Detail About Joe Alwyn
Theo Wargo/Getty Images Entertainment/Getty Images
Taylor Swift released a new music video for her single "Delicate" on Spotify about an hour after midnight on March 30, and it's all kinds of epic, you guys. For one thing, the entire vid is shot like Swift's basically FaceTiming us from the middle of the woods. She just faces the camera and sings the song in one take, and the whole thing is so amazingly low-key that I am totally shook. Of course, it wouldn't be a T. Swizzle production without a secret nod to her relationship. And Taylor Swift's "J" necklace for Joe Alwyn in the "Delicate" music video is the sweet gesture I needed in my life.
The original music video for Delicate was released at the 2018 iHeartRadio Music Awards on March 11, and it featured Swift singing and dancing around through rainy streets, on the subway, and in a hotel lobby with her girl squad. But this new, stripped-down, Spotify-only version is way more stark and intimate. And in it, Swift proudly sports a Tiffany & Co. disc charm necklace engraved with the letter "J" around her neck — and she even points to it while singing the lyrics, "You must like me for me." How adorable is that? Check it out:
So sweet, right? The two have reportedly been dating since the spring of 2017, although they tend to keep their relationship on the down-low. Which is probably why all the Swifties on Twitter are freaking out over the necklace's apparent acknowledgment of the relationship.
Pretty cool, right?
Of course, this isn't the first time Swift has given her fans hints about her relationship with Joe. For starters, towards the end of Swift's original video for "Delicate," the singer is dancing in an alley in the rain, and just, you know, doing splits on the top of a car and stuff. I do that all the time, don't you? But anyway, behind Swift, in the street way back on the left, is a sign that reads "Joe's Deli." So, there you go.
Me! I Do! I mean, I just love this kind of stuff and could dig around for it all day! Like, remember when Swift released the music video for "End Game" back in January, and the Internet basically blew up with theories about all the allusions in it to Joe? For starters, as one Twitter user pointed out, the video ends in London, where Alwyn grew up.
And not only that, but as another fan surmised, the last shot is reportedly of the 26-year-old actor's former school.
Pretty sneaky! And even before our girl T. Swizzle gets to London, there are clues. When she makes a pit-stop in Tokyo to party it up with Ed Sheeran and traipse around the city streets in a killer pair of black patent leather platform boots, one of the signs in the background features a word that translates to "Joe" in Japanese!
So, I guess our girl has a thing for giving her fans signs about Joe on, well, actual signs. Love it! Meanwhile, according to The Telegraph, the entire "End Game" video was actually an homage to Swift's relationship with Joe, and features several spots where the two have hung out.
"The video shows Taylor on a night out," a source told the publication. "All of the locations are places she has been to with Joe. She has spent months quietly going under the radar in London this year and has been out a lot more than anybody realizes."
Did that include a stop at Tiffany & Co. on Bond Street, perhaps? Here's hoping we'll find some clues in Swift's next video.