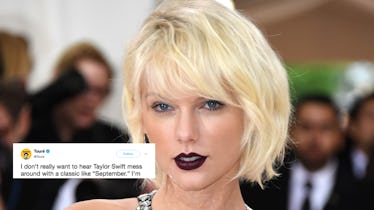 Twitter Is Slamming Taylor Swift For The Cover Song She Just Debuted & Ouch
Larry Busacca/Getty Images Entertainment/Getty Images
If you think you don't know the classic song "September" by Earth, Wind & Fire, you're wrong. It's played at pretty much every celebratory event that you could ever think of, and it appeals to pretty much every age group. It's timeless, and if you don't love it, maybe you should skip this post. (Kidding, please read, I need to feel important.) And, with every classic song, there are going to be artists who are hell-bent on covering it, and "September" is no exception. Unfortunately, Taylor Swift's Earth, Wind & Fire "September" cover just debuted, and people are NOT loving it. Let me be more direct: The Twitterverse is losing its damn mind because many fans truly loathe what Swift did with the song.
According to Billboard, Swift released the cover on Friday, April 13 to honor the famous band and to give the "1978 funk hit a warm country-tinged feel," and it has pretty much received nothing but negative reactions. It's apparently a part of the Spotify Singles series, but it's making many people angry because fans think that Swift's version simply doesn't do the song justice.
Of course, the world is venting their anger out on Twitter, where they pretty much ask Taylor Swift why she'd ruin something that's already perfect:
Many fans of the song were like, "If it ain't broke, don't fix it":
Ouch, Twitter. Tell us how you really feel.
BUT! There are *some* people who are coming to Swift's defense, and saying that they genuinely enjoy the cover:
And, while her newest cover might not have been a fan favorite, fans are still showing their love for Swift ever since she hosted a surprise performance in Nashville on Saturday, March 30. The show was a total throwback to "the old Taylor," taking the stage at Bluebird Cafe in front of 40 people, according to The Tennessean, and performed alongside songwriter Craig Wiseman as she sang "Shake It Off," "Love Story," and "Better Man."
If you know Swift's career, then you know that she started performing at the Bluebird Cafe when she was just 14 years old, so coming back to that venue was especially poignant for her.
Swift's performance was reportedly a part of a documentary about the Bluebird Cafe, honoring its 35th anniversary, and she talked about how much of an impact the venue had on her and her career. She said,
I wanted to say a big thank you to the Bluebird Cafe. I think any songwriter in town would echo my sentiments and say that this is kind of the only place where this exists — this particular place where you get to come and hear the writer's take on the songs they've put out into the world.
See, you guys? The old Taylor is still in there, even if she covered a song that you're not really into.
So just let her live, OK?
Plus, she's gifting the world with more music videos, and for that, we should be thankful. On March 30, she released a new music video for her single, "Delicate," on Spotify, and it's actually kind of amazing. Although the original music video for the song was released back in early March at the 2018 iHeartRadio Music Awards, the second video is a bit more natural and intimate, with Swift basically videoing on selfie mode in the woods, wearing a "J" necklace as a nod to her boyfriend, Joe Alwyn:
See? Proof that Swift loves us and wants us to be happy with her work.
So if you're not the biggest fan of that "September" cover, maybe just keep playing some of her other work on repeat until you start feeling better about things.