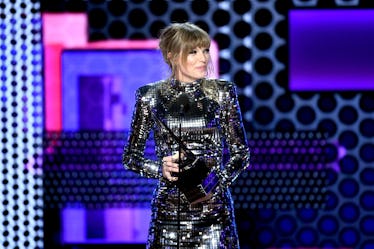 Taylor Swift Is Reposting Your Voting Pics, So Make Sure You Get That Selfie
Kevin Winter/Getty Images Entertainment/Getty Images
The midterm elections might be closing out, but Taylor Swift isn't taking her focus off voting just yet. She continued her increasingly political activism on Nov. 6 by kicking off Election Day with an inspiring video urging fans to get to the polls — and now, Taylor Swift is reposting voter selfies on Instagram in celebration of those who did. So grab that "I Voted" sticker, you guys, and start snapping it up.
On Tuesday morning, Swift went on Instagram to urge her followers to exercise their right to vote, stressing that she's seen a lot of "underestimation" in young voters. In attempts to spike voter turnout, Swift called on her fans to take action and promised that if they vote, she'll post them to her Instagram for all 112 million of the Swifties to see and marvel over. All you have to do, she said, is take a picture after you vote to let her know that you've done your civic duty, tag her in the photo, and hashtag "#JustVoted." She'll be handling it from there, so just keep your eye out! You'll just want to make sure that there's proof of you voting in your photo, so something like an "I Voted" sticker should work fine, or you can snap a ballot selfie. (If you're interested in the latter, just be sure to check your state's regulations on whether they're legal first. If not, just wait until you've left the polls.)
IDK if you guys are keeping up, but Swift has really shattered her reputation for being apolitical here. She first broke her long silence on politics back in October, when she endorsed two Tennessee Democrats, Rep. Jim Cooper, who's running for re-election to the House, and Phil Bredesen, who's running in Tennessee's race for U.S. Senate. While in the post she admitted her "[reluctance] to voice her political opinions," she stated that she just couldn't give Bredesen's Republican opponent, Marsha Blackburn, her support. She wrote, "I cannot vote for someone who will not be willing to fight for dignity for ALL Americans, no matter their skin color, gender or who they love." Representatives for Blackburn did not respond to Elite Daily's request for comment at the time.
She doubled down on her efforts weeks later at the American Music Awards on Oct. 10 while accepting her award for Artist of the Year. "This award and every single award given out tonight were voted on by the people," she explained of the honor. "And you know what else is voted on by the people is the midterm elections on Nov. 6. Get out and vote. I love you guys."
And in case it didn't get through to you then either, she posted yet another message to motivate voters on her Instagram on Oct. 17 that pointed out the option of early voting — something she said she wished she knew about when she "was 18 and voting for the first time." She topped off the photo with an incredibly cute photo of her red, white, and blue pedicure because, yes.
There's no better way to let her know her activism wasn't for nothing than to send her back your very own photo. Say cheese!