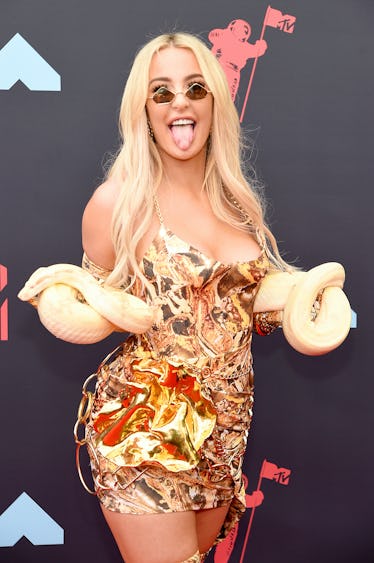 Tana Mongeau Literally Just Walked The VMAs Red Carpet Wearing A FREAKING SNAKE
Jamie McCarthy/Getty Images Entertainment/Getty Images
Hi, I don't want to be dramatic, but Tana Mongeau isn't nominated for a damn thing at this year's Video Music Awards, and yet, she somehow just blew everyone out of the water. ICYMI, Tana Mongeau's VMAs 2019 look paid homage to Britney Spears, and it was certainly the most talked-about look of the night — though some fans weren't exactly thrilled with this look. Mongeau loves an Instagram-approved outfit, but she really took it to, um, the next level when it came to accessories this time around, and by that, I mean she wore a literal snake on the red carpet. Yes, a real, live snake.
If you had told me a few days ago that there'd be a snake on the 2019 MTV Video Music Awards red carpet, I would have politely asked you to stop referring to Taylor Swift so negatively, because the Lover era is here, and she's a butterfly now, thank you very much! However, there was, in fact, a very real snake on the carpet, dangling from the body of YouTuber Tana Mongeau, who I just so happen to stan. If I had to list all the things Mongeau loves, it might look a little something like this: being late, bothering her manager, FaceTuning her pics (hey, she admits it, and I love her for it!), and causing scandals. This time around, though, the only thing scandalous is how decided to accessorize with a live snake.
TBH, at first I wasn't sure the snake was real:
But then I saw this video on Twitter, in which it ~slithers~:
If you don't get the reference, the iconic Britney Spears used a snake to top off her on-stage attire whilst performing "Slave 4 U" at the MTV Video Music Awards way back in 2001.
Spears handled an albino Burmese python way back when...
...and it looks like Mongeau might be posing with the same species, if not the same exact snake:
Obvi, the snake is the focus of the look, but the rest of the 'fit is fire, too. Mongeau rocked a bodycon dress with a molten gold-inspired pattern, topped off with a heavy gold belt — oh, and matching gloves. Oh, and matching over-the-knee boots. I stan a coordinated queen! And of course, a pair of her signature teeny-tiny sunglasses made an appearance, too.
However, many fans rightfully couldn't get past the fact that, well, there was a live animal being paraded around a crowded red carpet:
I honestly wasn't expecting to see Mongeau at the VMAs, but seeing as she has her own digital series with the network, Tana Turns 21, it makes total sense:
A lot of recent headlines about Mongeau have to do with her slightly confusing, seemingly rushed engagement and marriage to fellow controversial YouTuber Jake Paul, so perhaps Mongeau thought it was time to reclaim the spotlight solo. Paul was recently spotted having lunch with his ex, a fact his ~wife~ (or not?), Mongeau, found out about on Twitter. Whether or not their marriage is legit, Mongeau has made it clear she can shine bright and make a statement all on her own.
Unless, (hear me out!) she's using this look to send her hubby a subtle message:
Hear me out on my wild fan theory for one sec. Perhaps Paul was supposed to be her VMAs plus-one, but after all the drama, Mongeau decided to bring a real snake as her plus-one instead. Was she potentially representing Paul? Tea! Is she throwing shade, or just serving looks? I guess we'll never know.