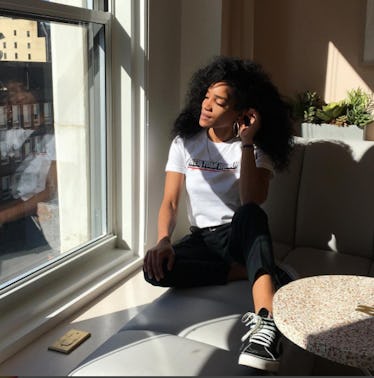 This Badass Woman Is Changing The Way We Talk About Depression Online & IRL
A couple weeks ago, I was invited to an event called Sad Girls Club Poetry Slam in Manhattan. I didn't know too much about it, other than some quick research that informed me that Sad Girls Club is a space for young people interested in talking about depression online with others who can relate to their struggles. I was really intrigued by the event title, and I already planned to be in the neighborhood, so I brought a friend along to check it out.
Hosted at The Center for Modern Psychoanalytic Studies along with advocacy jewelry line AWE, the night started with snacks, a tarot card reader, and a guided meditation before the main attraction. Young women performed their own original poetry or music, all of whom mostly focused on their experiences and struggles with mental health.
The art shared was both vulnerable and beautiful, and the mood of the crowd was palpably warm, involved, and supportive. I was deeply moved by all of it, as it was exactly the kind of space I remember yearning for as a younger woman dealing with major depression.
The poetry slam is just one example of the many events hosted by Sad Girls Club, an online platform and IRL meet-up started by Elyse Fox.
Fox has one major goal in mind: to create a safe community for young people to talk openly and frankly about their experiences with mental health.
Such a space makes it possible to challenge and break stigma, and for people to realize they aren't alone.
Elite Daily had the opportunity to speak with Fox about the development of Sad Girls Club and her thoughts on removing mental health stigma by transforming the conversation. The 27-year-old describes herself as a filmmaker first, and it was through making a personal documentary about her struggles with mental health that Sad Girls Club was born.
She shares that the catalyst film "documented my worst year of depression."
She explains that, at the time she made the film, everything external in her life looked great on the surface. She was getting major career opportunities, traveling, going to fashion shows, and had an active and exciting social life. "You can appear to be really happy but still internally be suffering," the filmmaker shares with Elite Daily. She continues,
I was holding back a lot in my films. I was not true to myself and true to my words. I had suicide attempts over two years. I wanted do something [in my work] that was mental health related.
Fox says she was terrified that people wouldn't believe her experiences or wouldn't support her — until she released the trailer, and instantly received positive reactions:
I started getting feedback from all over the world — a 14- or 15-year-old girl in Paris, an 11-year-old girl in London. They all had their own related experiences and wanted to see the film.
After she released the film, Fox continued to receive positive messages from young people who felt they were dealing with their mental health issues alone. This eventually led to the Sad Girls Club Instagram, an intentional support page for millennial women suffering from depression. The account officially launched last November, and about a year later, they've amassed nearly 20,000 followers. To say the least, an entire community had been born.
Posts on the Sad Girls Club account feature simple, beautiful messages, like "Believe in your struggle," or "Mental health is not a personal failure."
Followers began having open discussions in the comments about their experiences with mental health. In a conversation with over 60 comments about antidepressants, Instagram user @reyna_aceves wrote,
Oh and I totally agree that it should not be something we feel ashamed of. Some of us really need them to survive and that's OK. At least we are seeking help so we can get better and be productive members of our society.
To which the Sad Girls Club wrote back, "beautifully said❤️."
The "IRL" part of the club soon followed suit to get some of these conversations to happen face-to-face. From events like the poetry slam I attended, to meditation domes and art therapy in the park, each event is unique and different. "It's about building community around depression," Fox says. She explains,
There's an open conversation and a realness within the group. We're talking about our mental health and it's a discussion that has to happen daily, I feel. It's super open on there, not candy-coating anything.
The Sad Girls Club also recently started spotlighting one woman each week on their Instagram page, making it possible for young women everywhere to have a platform for sharing their own stories in their own words. Sad Girls Club encourages these women to converse in the comments section and organically start conversations about mental health topics, like skills to manage anxiety, and causes of binge eating and what to do about it.
"It's important to create a space that talked about things safely and with total normality," Fox tells Elite Daily. She adds,
Mental illnesses are so common; one in five people in America are affected. It's so normal, but it's the most stigmatized illness.
We need to do a 180. We publicly demean people who are dealing with mental illness. We don't do that with cancer.
Fox feels the conversation about mental health in general is in major need of a change, as it's lacking, she says, in positive, varied, and supportive representation.
Fox tells Elite Daily she's really fighting the most to represent people who tend to endure the worst consequences of stigma. For example, the 27-year-old explains, it's particularly hard for women of color with mental illness to find role models, and that really affected and informed her own experience with depression. "I want to help remove that stigma little by little every day," she says.
Fox also expresses disappointment with the way society sometimes talks about celebrities who have opened about their struggles with mental illness, as it trickles down and impacts the general misconceptions we see day-to-day:
We laughed at Britney Spears. We laughed at Amanda Bynes. Recently there was a photo of Kanye West when he gained some pounds; all we [did] is laugh at how much weight he gained even though it might be related to the medication he's on.
We made it normal to make fun of it. We create memes about them.
Fox tells Elite Daily she's concerned that taking these things as lightly as we sometimes do can send the wrong message to people who are dealing with similar issues themselves, and are afraid to talk openly about them.
The Sad Girls Club founder believes it's really important to be intentional about the media you choose to look at.
This way, you aren't reinforcing negative portrayals and stigmas to yourself about what it means to cope with mental health issues.
As for how she personally maintains a healthy relationship with the often negative and stigmatized online realm, Fox tells Elite Daily, "I only follow things on social media that make me feel better about myself. I follow pages that are only in line with my beliefs, things that are supportive."
She encourages others to do the same, and stresses how important it is to consistently interact with small reminders and affirmations about your mental health — much like the content posted on Sad Girls Club. She suggests keeping positive, digestible information about mental health around you at all times throughout the day, like short videos and sticky notes promoting positive messages. These little things can make a huge difference in normalizing what you're going through, removing the stigma, and helping you feel supported while keeping you informed.
If you're struggling with depression, know that you're not alone in your struggles, and there is no shame in talking about what you're going through.
"The hardest thing to do is to speak out about it," Fox says, "but reach out to someone you trust. Start the conversation."