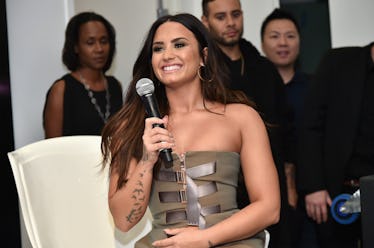 11 Celebrity Quotes About Depression That'll Change The Way You Think About Mental Health
Mike Coppola/Getty Images Entertainment/Getty Images
Oct. 10 marks World Mental Health Day, an internationally recognized opportunity for people to spread information and awareness about mental health issues. Despite a large percentage of our society living with mental health disorders, we still tend to avoid communication about these illnesses, even though that's exactly what they are: clinical illnesses that should be treated with the same respect and education as any other medical ailment. For this reason in particular, celebrity quotes about depression and other mental health issues like anxiety can be incredibly helpful when it comes to breaking down these powerful stigmas.
One in five adults are living with a mental illness, according to the National Alliance on Mental Illness. But because it's so often frowned upon to talk openly about these issues, many people still don't really know just how prevalent this is in our society. This is why celebrities can make such a positive impact when they use their voice to spread awareness. When Demi Lovato talks about her mental health struggles, it makes a difference for millions of people. Likewise, learning that Adele and Chrissy Teigen went through postpartum depression provides a huge step toward normalizing something many people view as embarrassing or shameful, despite its widespread nature.
An open dialogue is the key to breaking down these barriers. Talking about mental health awareness and education truly is the key to saving lives. So, in honor of World Mental Health Day, here are 11 quotes from celebrities who are paving the way for an open and honest dialogue about the realities of living with anxiety, depression, and other mental health issues.