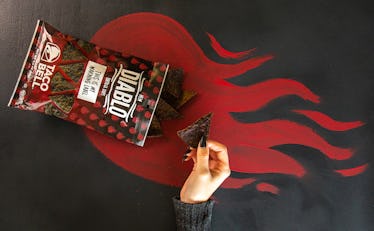 Taco Bell Just Dropped With A Spicy Tortilla Chip Flavor That You'll Totally Crave
Courtesy of Taco Bell
I don't know about you, but I could probably eat spicy food for, like, every meal. Whether I'm dousing my food with an inordinate amount of hot sauce, covering it in jalapeño peppers, or simply dumping red pepper flakes all over it, there's something I really, really love about my mouth constantly feeling like it's on fire. Weird, right? Anyway, if you, too, are devoted to spice, spice, and — you guessed it — more spice, you should probably give Taco Bell's new Diablo tortilla chips a shot. Here's a little pro tip, though: make sure you have a cold glass of water nearby. You won't regret it.
Back in March 2018, Taco Bell came out with a hot new line of tortilla chips, that heated up grocery store shelves throughout the country. Mimicking the taste of Taco Bell's Fire, Mild, and Classic Hot Sauce Packets, T-Bell's tortilla chips quickly won the hearts of heat-lovers nationwide. After gaining an immense amount of popularity, though, the Tex Mex chain emerged with yet another tortilla chip flavor, Diablo. According to a press release sent to Elite Daily, Diablo tortilla chips highlight Taco bell's signature Diablo hot sauce's spicy peppery taste, along with a hint of lime. The chips themselves are black to stand out from other red-colored hot chips. Trust me: they'll have you simultaneously sweating, while also craving more. Strange, I know.
While Taco Bell's Diablo tortilla chips are everything I could ever want, there's a pretty nasty catch. Sadly, according to a press release, they'll only be around for a limited time. Starting on Oct. 1, 2018, they'll be sold exclusively at participating 7-Eleven stores through Oct. 31. After that, they'll be sold at various other grocery and convenience stores through November 2018. Once December comes around, it looks like they'll be gone forever.
In the press release, Marisa Thalberg, Chief Global Brand Officer of Taco Bell said the chain's new chips are highly unique, and they're a great way to give fans a taste of T-Bell outside of the restaurants.
In the press release, Thalberg said,
Our iconic sauce packets were our original inspiration for how to give fans a new way to access a taste of Taco Bell at retail. The new Diablo Tortilla Chips build from that inspiration, letting us serve up our hottest chip yet that's completely unique to Taco Bell, from its dark and smoky packaging with saucy wisdoms, to the flavor of the chip itself.
If spice isn't quite your thang, Taco Bell is also selling $5 Taco Gift Sets in honor of National Taco Day on Oct. 4. Each box comes with each of the three Doritos Locos Taco flavor, including: Nacho Cheese, Cool Ranch, and the Fiery flavor. They'll also throw in some world-renowned Crunchy Tacos, so I don't know about you, but I'll be needing one of these.
Taco Bell tortilla chips are tasty as heck, but the new Diablo flavor is pretty unbelievable. Try them with salsa, cheese dip, or by themselves. Regardless of how you'd like to enjoy them, they're definitely one of a kind.