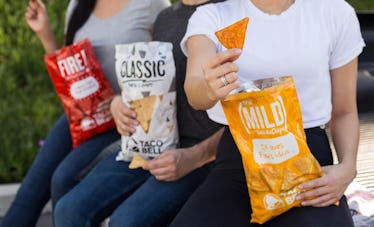 Taco Bell's New Tortilla Chips Are Tasty & Here's Where You Can Buy Them
Whenever Taco Bell announces a new product, I listen up real good. More often than not, a tasty flavor combination awaits you when you finally hit up your local Taco Bell restaurant to give their latest menu item a try. This time around, Taco Bell is venturing past the order counter and drive-thru for their latest snack. Here's where to buy Taco Bell tortilla chips so you can live más during your next at-home fiesta.
The new hot sauce-flavored tortilla chips from Taco Bell will be right there on your grocery store shelves in the beginning of May, according to the press release. If you're really in a hurry and need to get your hands on some Taco Bell Fire tortilla chips, you can also find the new chips in your nearest convenience store. That's right, you can get some of your favorite Taco Bell flavors at home even if you're not anywhere near a Taco Bell.
The new Taco Bell tortilla chips will come in three different flavors: Classic, Fire, and Mild. If some of the flavors sound familiar to your expert Taco Bell ears, you are not mistaken. The Fire and Mild Taco Bell tortilla chips are similar in flavor to the Taco Bell sauces that share the same name, and they'll probably pair so well with all of those Taco Bell sauces you've been hoarding in your kitchen (you're not the only one).
All three of the Taco Bell tortilla chip flavors will be right there on grocery and convenience store shelves this May. The Fire tortilla chips have the flavor of "jalapeño, chili peppers, and paprika" while the Mild sauce-inspired tortilla chips boast hints of "three chili peppers and cumin." If you're into some Taco Bell tortilla chip action without all the sauce flavor, you can opt for the Classic Taco Bell tortilla chips that are "salted and crispy."
Whichever flavor best suits your needs is up to you, but the chips will be ready and waiting for you on store shelves to help you turn every party into a real fiesta this summer. The chips will also be so easy to spot in the store because the packaging is inspired from the classic Taco Bell sauce packets. The choice to create a sauce packet-inspired package was an easy one, as explained by Marisa Thalberg, Chief Brand Officer, in the press release. Thalberg said in the press release, "Our sauce packets are one of the brand's most unique aspects and were the natural choice for both the flavors and packaging of our tortilla chips."
The packages will practically call out to you during your next grocery store run because the Fire and Mild tortilla chip packages even have the same "saucy wisdoms" that you see on the original Taco Bell sauce packets. In Taco Bell's tweet announcing the new chips, the red Fire package boasts, "I knew I was your favorite," and the orange Mild tortilla chip packaging plays the blame game with its message of, "It was Fire's idea..."
It sounds like these new Taco Bell tortilla chips will make any chip and dip party so much more fun (and saucy), and you don't even need to make an extra trip beyond your regularly planned grocery shopping schedule to get them.
While you wait for the May arrival of Taco Bell tortilla chips, you can head to Taco Bell restaurants to enjoy one more helping (or two) of Nacho Fries before the leave the menu in early April. The Nacho Fries will reportedly come back some time in the summer, but you should probably partake in a farewell to the tasty french fry-nachos mashup as it takes a hiatus from the Taco Bell menu.
Instead of being bummed about saying goodbye to Nacho Fries (for now), you should get excited about welcoming the new hot sauce-flavored Taco Bell tortilla chips. They sound like they'll be the perfect addition to all your summer parties (and your grocery list).