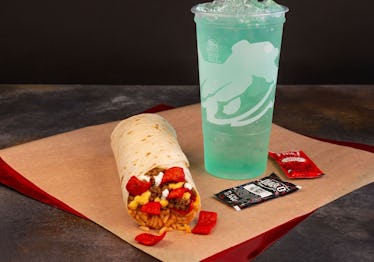 Taco Bell's New $2 Duo Is Bringing Back A Fan-Favorite Burrito From 2016
Taco Bell
Almost any Taco Bell aficionado knows that the Mexican fast food chain offers an impressive variety of feast-worthy combo deals. As a seasoned Taco Bell customer, I know this for a fact. Back in June 2018, for example, you might remember the chain's Burrito Melt and Baja Blast combo, which sold for a mere $2, and believe me when I say it was out of this world. But, on Thursday, Sept. 13, the already enticing combo meal underwent an extra spicy upgrade. If you haven't already tried Taco Bell's new $2 duo, it's everything you could ever want for under a fiver, of course.
Taco Bell recently re-introduced a fan favorite to their menus that you've most likely tried at one point or another: the Beefy Crunch Burrito. The Beefy Crunch Burrito, in case you don't recall, is made with Flamin' Hot Fritos, which, according to Taco Bell, left menus as of April 2016. Well, it's back, and it pairs impeccably with the OG Mountain Dew Baja Blast, which is why the restaurant is offering the Beefy Crunch Burrito and a medium Baja Blast (or soft drink of your choice) combo for only $2. According to Taco Bell, the deal will run nationwide starting Thursday, Sept. 13, so make sure you get on that ASAP. You don't want to miss out on this.
In addition to Flamin' Hot Fritos, the Beefy Crunch Burrito includes seasoned beef, nacho cheese sauce, seasoned rice, and sour cream, according to its description on Taco Bell's website. It's a spicier take on the Taco Bell's other $2 duo, which came with a Triple Melt Burrito, released on June 24, but it sounds just as delicious.
If you happen to be enjoying one of these combos in Kansas City, Missouri, you should also probably test out the new Chicken Tortada. They've hit Taco Bell menus for testing out there for a limited time only, starting on Sept. 13, and each order includes seasoned chicken, veggies, and a choice between creamy Avocado Ranch or spicy-hot Mango Habanero sauce, which are wrapped into a tortilla. It's folded into a square, before hitting the grill, and lucky for all you chicken lovers out there, one will only cost you a mere $2.49. Taco Bell recommends it to all Naked Chicken Chalupa and Crunchwrap Supreme lovers, so if you have any common sense, I'd definitely take them up on that.
If a tater craving strikes during your T-Bell run, however, make sure to try one of the restaurant's new French fry combos before they leave the test menus in mid-September in two Ohio cities. The Rattlesnake Fries are a solid start, made up of warm, crunchy fries, which are topped with gooey nacho cheese, juicy steak, rich jalapeño sauce, and obviously pickled jalapeños. This snack being test at select Columbus, Ohio locations only cost 2.99. If you're craving a different kind of spice, you can head to select Cincinnati locations for the test run of the Reaper Ranch Fries. They're drizzled in an unbelievably spicy Reaper Pepper sauce, as well as a milder, creamy ranch sauce, and make sure you have a glass of water with you, because they are hot, hot hot. These only cost $1.29, but rest assured, both are well-worth the price. Both of these hot items leave the menu soon, though, so I'd get there ASAP if you want to try these spicy snacks.
Don't get me wrong — I'm a fan of pretty much every Taco Bell item in the history of Taco Bell. So, let it be known that it's a pretty big deal when I recommend the $2 Beefy Crunch Burrito combo above everything else. The burrito is super spicy and deliciously crunchy, and it blends perfectly with the cool, refreshing Mountain Dew Baja Blast. Just talking about it is literally making me drool, so it looks like it's time for a T-Bell run.