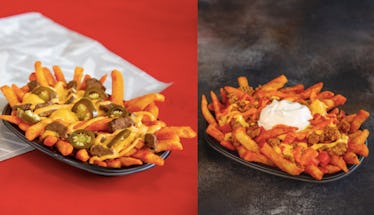 Taco Bell Is Testing A Spicy Upgrade To Nacho Fries, So You Can Really Live Más
Taco Bell
Many people claim that there's a place and time for everything. In most cases, I would whole-heartedly agree. However, it's merely a fact of life that french fries are perfect anytime, anywhere. Please, try and fight me on this, but you'll eventually have to face the facts that french fries can't be confined to one specific mealtime. Luckily for avid french fry fans, Taco Bell is testing two new types of french fries. So, in case you're wondering what Taco Bell's Rattlesnake Fries and Reaper Ranch Fries are, I've got you covered.
First, Taco Bell released the brand's famous Nacho Fries way back in January 2018. Now, less than a year later, the Mexican fast-food haven has come out with two new french fry variations, known as the Rattlesnake Fries and Ranch Reaper Fries. According to the press release, both take "heat to the next level," and as a longtime spice fanatic, I seriously cannot wait to try them.
To start, Rattlesnake Fries are made up of warm, crunchy fries, which are topped with gooey nacho cheese, juicy steak, rich jalapeño sauce, and, of course, pickled jalapeños, according to a press release. Taco Bell will also be offering a Rattlesnake Burrito, which is complete with the same exact ingredients as the Rattlesnake Fries, and it's all wrapped together in a warm tortilla. Both the burrito and fries only cost $2.99. As of Thursday, Aug. 16, these spicy limited-time menu items will be available until mid-September at select Columbus, Ohio, locations. It looks like things out there in the Midwest are about to get hot, hot, hot!
The Reaper Ranch Fries, on the other hand, are named after the world's hottest pepper called the Caroline Reaper, per the press release. While this might be hard to believe, these are even spicier than the Rattlesnake fries, so make sure you have a glass of water ready. The Reaper Ranch fries are drizzled in an unbelievably spicy Reaper Pepper sauce. To balance out the heat, they're also drizzled in a mild, creamy ranch sauce. The Reaper Ranch Fries are available from Aug. 16 through mid-September at select Cincinnati, Ohio, locations. You can score this test-menu item for only $1.29. I seriously need to get my hands on these babies ASAP.
If you're looking for some slightly simpler thrills (or if spice ain't your thang), the OG Nacho Fries are going to remain on Taco Bell menus nationwide through mid-September, according to a press release. I'm not entirely sure if I believed in miracles before these came into my life, but this sure as heck is a french fry sensation, if I ever did see one.
French fries are undeniably perfect in every single way, shape, and form. However, with a little added spice and some extra love, they're my literal dream food. I will say that I'm a little disappointed in the fact that both the Rattlesnake and the Reaper Ranch Fries are only available in Ohio as of right now. I have my fingers crossed that the tests go swimmingly, because I really want to have a taste of theses upgraded Nacho Fries. I'm wishing these spicy snacks the best of luck.