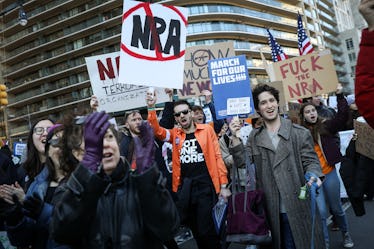 Students Are Protesting Gun Violence Nationwide In Honor Of The Pulse Anniversary
Drew Angerer/Getty Images News/Getty Images
Tuesday, June 12 marked the second anniversary of the Pulse Nightclub shooting in Orlando, Florida, where 49 people lost their lives after a shooter opened fire on in 2016. In honor of the victims, students are protesting gun violence across the country. The Tuesday protests follow a year of mass demonstrations to demand action on gun reform.
On Tuesday, students across the country participated in the National Die-In. The central event, taking place in on Capitol Hill in Washington D.C., was joined by at least a dozen sister events, many of them taking place at state capitols. The protests were slated to begin at 10:30 a.m. ET, beginning with speeches and a rally, and culminate in a period during during which students would lay down on the ground symbolically for 12 minutes or 720 seconds — approximately one second for every life lost in a mass shooting since Pulse. A statement by the group read,
In the wake of recent Parkland and Santa Fe tragedies we and like-minded individuals have decided it is no longer enough, or never was, to simply send "thought and prayers" to victims of horrific acts of violence. We as students, the next generation of the United States of America, have determined to stand up for our rights and safety, and work not only for safer schools but also for a safer country, through strict gun control legislations.
Acadia Gilchrist, an organizer for the National Die-In, tells me in an interview for Elite Daily that the Washington protest was about 100 people in size. In addition to the die-in protests, the protesters proceeded to hold sit-ins at the offices of Sens. Ted Cruz, Mitch McConnell, and Marco Rubio, Republicans of Texas, Kentucky, and Florida, respectively. All three senators have been criticized by activists for their stances on guns. Photos and video on social media showed Cruz's office overwhelmed by a student sit-in, while additional footage showed a gathering of students, apparently protesting outside the Rubio's Tampa office.
The sit-in portion of the day was planned just hours earlier, on Tuesday morning, per Gilchrist. She says that a group of ten students met with representatives from McConnell's and Rubio's offices, the students sitting in at Cruz' office were reportedly told to leave. "They kicked them out and told them they'd get arrested," she says.
"Sen. Cruz is always willing to meet with constituents and listen to their concerns," a spokesperson for Cruz says in a statement to Elite Daily. "He agrees that we need to find solutions to prevent further mass shootings and he believes it can be done without stripping law-abiding citizens of their constitutional liberties. First, Sen. Cruz believes it is critical that current laws on the books are enforced - something the previous administration failed to do."
Elite Daily also reached out to the office of Sen. Rubio for comment on the protests but did not hear back at the time of publication.
"It went better than expected," Gilchrist says of Tuesday's protests, adding that they also met with Democratic Sens. Cory Booker and Kamala D. Harris. "There are those that are willing to listen and supporting us."
As with previous demonstrations of gun violence in schools, Tuesday's protests were led by young people. The National Die-In, according to The Trace, was organized by Orlando residents Amanda Fugleberg and Frank Kravchuk, and Georgia resident Nurah Abdulhaqq, ages 18, 21, and 14, respectively. According to The Trace, Parkland shooting survivor-turned-activist David Hogg helped the students connect and organize Tuesday's demonstration.
"This day 2 years ago 49 people where murdered, a little less then 2 years later 17 were shot and killed at my high school," tweeted Hogg on Tuesday. "As a result of our politicians refusing to take action. Now we must vote this November for those that no longer can to get morally-just leaders elected."
The organizers have listed 11 demands they'd like to see met in addressing the issue of gun violence, including reforms such as bans on assault weapons and high-capacity magazines.
The National Die-In was also aiming to promote voter registration, particularly among young people who are voting for the first time in the general elections this fall. Gilchrist, who is 17 and a senior in high school in Syracuse, New York, turns 18 in July and is planning to vote in the November.
Cruz participated in the Senate committee hearing in March to address the Parkland shooting. "The American people are rightly horrified and outraged at the mass murders we have seen over and over again," Cruz said in the hearing, per a statement. "In my judgment, we have seen a catastrophic and systemic failure of law enforcement at every level."
Cruz has received a grade of A+ from the National Rifle Association (NRA) and accepted over $77,000 in contributions from the gun lobby, a February article by Texas Monthly showed.
The National Die-In comes on the heels of months of gun control demonstrations in the country. The #NeverAgain movement, a student-led movement that arose out of the Parkland shooting in Florida that claimed the lives of 17, has spread across the globe.
This spring, student school shooting survivors and their allies rallied together to demand change at the federal level to prevent similar tragedies from happening again. The main three protests were the Enough! Student Walkout on March 14, one month after the Parkland shooting; the March For Our Lives on March 24; and the National School Walkout on April 20, the 19th anniversary of the Columbine shooting. All three of the demonstrations were organized by students.
The National Die-In Tuesday, while held on the anniversary of the Pulse shooting, was meant to commemorate "every life lost to gun violence before and after this tragic event," per a statement.
Editor's note: This article has been updated with input from the National Die-In and the office of Sen. Ted Cruz.