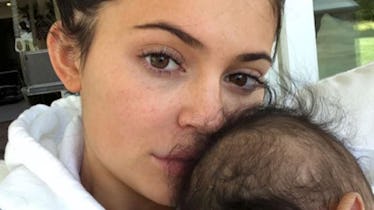 Stormi Webster's Shoe Collection Is Really Expensive & Seriously Impressive
Instagram / Kylie Jenner
I guess deep down I knew Kylie Jenner's daughter Stormi Webster was already cooler than me. I just didn't want to believe it. I'd like to think that everyone hits a certain age where they feel secure enough in themselves that they don't need to secretly compete with a famous newborn, but it looks like I'm just fooling myself. I've been jealous of Stormi since she popped out of Kylie Jenner's womb. This kid's life is going to be incredible. For example, take Stormi Webster's shoe collection. The girl has more money invested into her kicks than I do in my whole apartment, (and I go to Old Navy, like, a lot, you guys.) This kid is going places and doing it in great footwear.
Jenner has been playing coy with her fans, sometimes postings lots of pictures of her daughter and then sometimes removing them. While she took down a bunch of her initial grams of her wee-one, Jenner is sharing more insider information about her daughter's life at home. On Tuesday, July 3, Jenner videotaped Stormi's impressive shoe collection and sent her fans into a frenzy. If you look closely, you can spot brands like Giuseppe Zanotti, Gucci, and Nike Air Force 1's. According to Marie Claire, the collection videotaped adds up to somewhere around $22,000.
I'll let that number sit for a minute while you take a peek.
I know.
From here, it might not look like anything special but in real life, it is, people. In the video, Jenner explains Stormi can "finally fit" into some of her sneakers, and she and her boyfriend Travis Scott are about to find out if she likes shoes at all... god willing. Apparently, Scott gifted his daughter with multiple vintage sneakers to place next to her animal print flats.
Fans also know from Jenner and Scott's tribute video, "To Our Daughter," Stormi has been collecting shoes since before she was born. In the video, Jenner's best friend Jordyn is seen gifting Jenner and Scott with Stormi's first pair of Nikes. Jordyn proudly states "they're the first pair ever made." Sure, they might have been her first pair, but now they're just one of the hundreds proudly tucked away in a closet I can only assume is larger than my kitchen. Can you imagine what Stormi's closet full of clothing looks like? It must be a wonder.
Which... speaking of Kylie Jenner wonders... she didn't stop with the sneaker collection.
Around the time Jenner let fans into Stormi's closet she also showed fans what her puppy's doghouse looks like, too. And, when I say doghouse, I mean human mansion that her dogs just happen to get to live in.
Jenner snapped her pup's luxury building, complete with air conditioning and heat, the same morning she showed off Stormi's kicks. Brace yourself for this one...
You guys, this thing is sick. What does it take to get adopted by Kylie Jenner, huh?!?!
Jenner says it herself, "it's like a guest house." According to E! News, Jenner has seven dogs which include her famous Italian greyhounds, Norman and Bambi. Fortunately for them, their house has plenty of space for seven humans let alone seven fur balls. All of this to say, life at the Kylie Jenner mansion looks pretty freaking sweet. Fans know somewhere else on her property must sit an impressive car collection, glam room, and plenty of floor to ceiling mirrors, too.
Kylie, are you looking for tenants? I know about 20 people who would go in on a room with me.
Check out the entire Gen Why series and other videos on Facebook and the Bustle app across Apple TV, Roku, and Amazon Fire TV.