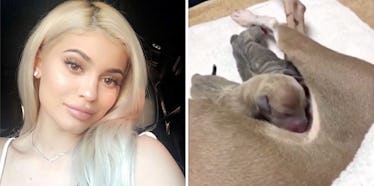 Kylie Jenner Skipped The AMAs After Her Dog Had Puppies And There Are Pics
Snapchat
Kylie Jenner was supposed to be at the American Music Awards on Sunday night, but unfortunately the duties of motherhood got in the way.
That's right — Kylie's a mom! A puppy mom, anyhow!
The 19-year-old reality star sent out an apology tweet for missing the 2016 AMAs, but she had a good excuse: Her dog Bambi unexpectedly went into labor and gave birth to puppies.
Apparently, Kylie hadn't meant for her other dog Norman to get Bambi knocked up.
(At this point, one thing is very clear to me: Kylie did not get her dogs spayed. Does Kylie not know anything about pet ownership? That is like, the first thing you're supposed to do.)
But even though Kylie missed out on her friend Gigi Hadid's savage Melania Trump impression, at least she got to witness the miracle of birth — an experience she called "amazing."
According to Kylie, she wants to wait to pick out names until she gets to know these tiny little fluff balls a little better.
And what tiny little floofs they are.
Kylie posted videos of the two adorable puppers on Snapchat, in what I feel is easily the best Kylie Jenner SnapStory of all time.
 JUST LOOK AT THEM! SO SMALL AND SO PUPPY!
Norman and Bambi did real good work.
It seems like Kylie might even have some name options: Blue and Fawn.
(Though she could just be describing the color of their little puppy coats.)
OK, so I guess Kylie has a PRETTY good excuse for not being at the Microsoft Theater for the American Music Awards on Sunday, being that she just added two more puppies to her crew.
Look, mothers have responsibilities, OK! They can't just go off to watch award shows whenever they want!
I mean, why do you guys think Beyoncé wasn't there tonight?
Citations: Kylie Jenner Missed the AMAs to Witness the Miracle of Birth (ELLE)