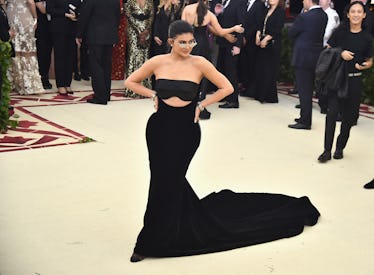 Kylie Jenner Finally Shared New Photos Of Stormi & You Have To See Them
Theo Wargo/Getty Images Entertainment/Getty Images
If you're a fan of the Kardashian-Jenner crew, then you're probably aware that Kylie Jenner recently deleted most of her Instagram posts of her baby daughter, Stormi Webster. Seeing as though Stormi is cute AF, many fans were super bummed to miss out on a daily dose of Stormi cuteness when Jenner deleted all of the pics showing the of the five-month old's face from her 'Gram account. Well, Jenner took to Snapchat on Saturday, June 30 to once again give loyal fans a peek at the adorable Stormi. Kylie Jenner's Snapchat photos of Stormi are what you've been waiting for.
Jenner must have changed her mind since deleting all of Stormi's pics as of June 10, and once you see the latest Snaps of Jenner's daughter, you'll be glad she did. The first picture shows baby Stormi looking very nap-ready laying atop a bed, and Jenner captioned the photo, "my little love," per Cosmopolitan. OK, I know it's only been three weeks since the disappearance of Stormi from Instagram, but Stormi looks like she's growing up right before our eyes.
Stormi also has that "cuddly" look down pat, with her stuffed toy keeping her company on a very oversized bed. I must say that I am very impressed — but not surprised — that Stormi doesn't even need a full-on headshot to convey her lovable demeanor.
For Jenner loyalists who have been waiting to see the cuteness overload that is Stormi Webster, Jenner's June 30 Snapchat Story did not disappoint.
Jenner must have been really feeling the love on Saturday, because she also shared a second Snap of Stormi laying on Jenner with the caption, "nothing better." I mean, look at this ultimate mother-daughter moment with Stormi all snuggled up with her mama. It doesn't get much better than that.
OK, the Stormi drought appears to be over for now, but that doesn't mean that Jenner will be back to posting all the photos of her little one. When fans noticed the missing photos of Stormi back in June, "nasty comments" on social media were the reported reason why. Per People, a source told the mag on June 12 that Jenner was excited to show off photos of Stormi, but "social media is a crazy place." The source said:
After Stormi was born, Kylie was the proudest mom. She couldn't wait to show off Stormi to her fans. She posted pictures, because she was so excited to be a mom. Unfortunately, social media is a crazy place.
The source further discussed the "nasty comments" when they added, "Kylie is shocked and doesn't want her daughter's pictures to be a part of something negative. She might reconsider in the future, but for now, she won't post any more photos of Stormi's face."
I totally get the protective-mom mode that Jenner went into after the not-so-nice comments on the 'Gram. People on social media even went so far as to speculate that Travis Scott, Jenner's boyfriend and Stormi's father, might not be the father of the Stormi, because her face looked similar to Jenner's old bodyguard, Tim Chung. Um, what? I know the comments sections isn't the best place on the web, but that is a doozy of an allegation. Not cool, internet, not cool.
Chung set the record straight in an Instagram post on May 12, and he wrote:
I am a very private person and would normally never answer to gossip and stories that are so ridiculous that they are laughable. Out of deep respect for Kylie, Travis, their daughter together and their families, I would like to set the record straight that my interactions with Kylie and her family have been limited in strictly a professional capacity only. There is no story here and I ask that the media no longer include me in any narrative that is incredibly disrespectful to their family.
Even with the rumors squashed by Chung, I understand Jenner being cautious of posting photos of Stormi.
It seems like Jenner was in a better place on Saturday to post the absolutely adorable pics of Stormi on Snapchat, but I wouldn't say that means Jenner will be back to posting all the Stormi cuteness on the regular.
Maybe she will and maybe she wont, but I'd advise everyone to keep it clean in the comments section either way. It's what Stormi deserves, ya'll.