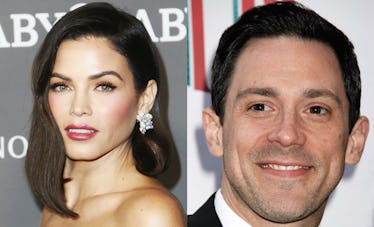 Jenna Dewan's New Boyfriend Just Left The Flirtiest Comment On Her Gorgeous Instagram Post
Tommaso Boddi/Laura Cavanaugh/Getty Images
Channing Tatum and Jenna Dewan are officially onto new relationships following their split in April. Tatum is currently dating singer Jessie J, and Dewan is now dating Tony-winner Steve Kazee. And while both couples have kept their romances pretty much under wraps, Steve Kazee's comment on Jenna Dewan's Instagram is the most flirty thing I've seen in a minute and the first openly flirty thing we've seen on social media from this pair.
Dewan and Kazee have reportedly been dating for a couple of months now. People reported their relationship back in October, and now they're getting all flirty and what not on the 'gram. The ever-reliable @CommentsByCelebs Instagram account posted a screenshot of Kazee's flirty comment on a photo Dewan posted on Nov. 17.
"Have you found your favorite yet??" Dewan said in the caption of the post promoting her dance-wear line with Danskin. Kazee commented, "Yes. I have." And now I'm blushing! Sure, he could've been trolling Dewan a bit, but I choose to believe he meant she is his favorite and that this is some heavy Insta flirting!!
The two have reportedly been dating for a couple of months now and are enjoying where things are at. They've never posted a photo together, but around Halloween they were reportedly seen kissing at a Casamigos party in Beverly Hills. There are also some paparazzi photos of them showing some PDA while on a walk in November.
A friend of the couple also posted this group shot of them out with friends back around Halloween.
Kazee, being a Broadway actor, of course has a bunch of Broadway friends. Said Broadway friends in the above photo include director Michael Arden and his husband/fellow actor Andy Mientus (you've seen him on Arrow and The Flash). Kazee and Dewan are seen in the picture looking as comfortable as ever with each other. Kazee's arm is around Dewan's and they both have big smiles on their faces. So it looks like these two are v happy together!
Channing Tatum has moved on and is seemingly very happy with his new romance as well. The actor has been dating singer Jessie J for a bit now, joining her for several stops on her R.O.S.E. Tour and posting about the shows.
"This woman just poured her heart out on stage at Royal Albert Hall. Whoever was there got to witness something special. Wow," he said in the caption of his post on Nov. 13.
Tatum and Dewan announced their split on April 2, saying there was no bad blood between them. Rather, their relationship evolved into something new.
"We have lovingly chosen to separate as a couple," Tatum and Dewan's joint statement said. "We fell deeply in love so many years ago and have had a magical journey together. Absolutely nothing has changed about how much we love one another, but love is a beautiful adventure that is taking us on different paths for now."
The statement continued,
There are no secrets nor salacious events at the root of our decision — just two best-friends realizing it's time to take some space and help each other live the most joyous, fulfilled lives as possible. We are still a family and will always be loving dedicated parents to Everly. We won't be commenting beyond this, and we thank you all in advance for respecting our family's privacy.
One thing is for sure following Dewan and Tatum's split: they clearly both have a type, and that type is brunette singers.